New watches add smart card technology to enable contactless payment, access, and logical security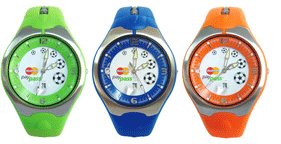 Austrian-made LAKS watches: An idea whose time has come?

By Chris Corum, Executive Editor
An Austrian watchmaker may not be the guy one would expect to find impacting the identity and payment card markets, but Lucas Alexander Karl Scheybal is not your typical watchmaker. At his company, LAKS, he designs precision timepieces that do more than just keep time. Recently added to his line of mp3 and flash drive watches are models that enable contactless payments, employee access and ID, and even a version that accepts a SIM card and connects via USB to a computer.
Embedding an identification device or chip into a watch is not new. Contactless-enabled watches have been used as lift tickets at ski resorts for years. But LAKS is taking the functionality – and the style – to new heights.
Pay for transit fares and access your office with a wave of your wrist
The company's Event Watches contain a contactless chip that can be used for transit, access control, or employee ID applications. The watch has become a popular form factor among frequent commuters in Shanghai. The Chinese city's mass transit ticketing system accepts the traditional contactless fare card but also the trendy LAKS watch.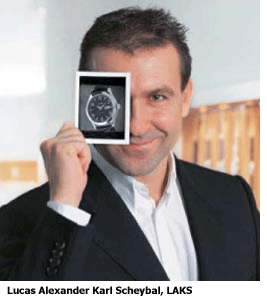 According to Mr. Scheybal, "Our Event watches have (also) been used for company entrance systems with either Philips MIFARE or LEGIC transponders … (and) some hotels and SPA Hotels are using the watches for their entrance systems. As you can order the watches from a minimum quantity of 100 pieces it is a perfect fit."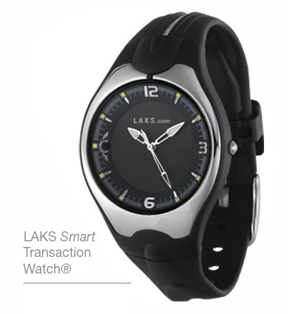 Add multi-application capability by inserting your SIM card
Yet making this Events model seem almost traditional is the company's exciting new Smart Transaction Watch. This watch enables the user to pop open the face and insert a knock-out SIM card. The Smart Transaction Watch was used during this summer's FIFA World Cup as a MasterCard® PayPass™ payment token. The watch was a companion to credit cards issued by Chinatrust Commercial Bank, one of the largest credit card issuers in Taiwan. The project was so successful that Chinatrust has continued its issuance beyond the World Cup promotion.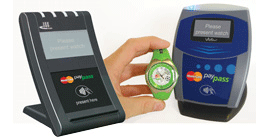 "The watch will always work as a companion card with your 'normal' creditcard," says Mr. Scheybal. A card issuer could provide the watch with the chip in place or could leave the insertion to the cardholder. "The bank can send your personalised card and you simply knock out the chip and insert it into the watch. This is a decision of the bank."
"To comply with the PayPass specifications, we added high security into an analog watch," said Mr. Scheybal. "We are now set to enter these exciting new secure identity and transaction markets."
The latest addition to the SmartTransaction Watch is a "Push to Pay" feature. With the integrated "Secure" button, the antenna is blocked – thus disabling transactions – until the wearer presses the button.
The SmartTransaction Watch accepts SIM format smart cards with USB, contactless, or both interfaces. To gain the advantage of the USB interface, the PHILIPS SmartMX chip must be used. Says Mr. Scheybal, "The best feature is the USB cable. Using the USB interface the watch can be used as a token. This feature opens a wide range of applications."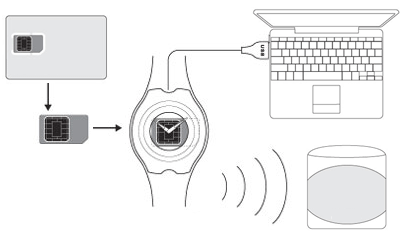 When might you find a smart watch on your wrist?
Clearly he is on to something. In this full configuration, this highly fashionable wristwatch could be used for contactless payment, access, and other functions as well as a full complement of USB-enabled logical security applications.
When pushed about the schedule and potential for the multiple application availability, Mr. Scheybal conveniently becomes a watchmaker again. "You know we are only the watch manufacturer. We are the analog part … the digital part comes from the card manufacturers side and there are so many options."
In the identity industry where 'so many options' are sometime slow to materialize, the LAKS watches have one major advantage over traditional form factors …. Regardless of how you use it, you still have a great looking, high-quality timepiece.
---
Additional resources:
Pricing information: The Event model is priced around 28 Euros with a minimum quantity of 100 pieces. The SmartTransaction model is priced around 30 Euros with a minimum quantity of 3000 pieces.
Visit LAKS online at www.LAKS.com.