LG unveils Optimus LTE Tag with NFC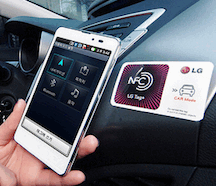 LG has announced a new NFC-enabled smart phone for the Korean market, the Optimus LTE Tag.
According to LG, the Optimus Tag features a new app called Tag+ that enables the handset to communicate with programmable NFC stickers, much like Sony's Smart Tags.
For example, a user could place an NFC sticker on the dashboard of his car that, when tapped with the Optimus Tag, automatically brings up Google Maps or engages the handset's Bluetooth connection.
The handset, which is expected to launch in Asia this year, runs on Android 2.3 Gingerbread and features a 4.3-inch IPS (800×480) display, rear and front facing camera, 16GB of memory and a Qualcomm 1.2GHz dual-core processor.
Read more here.