LG's biometrics-enabled cell phone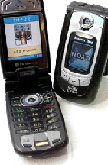 LG, a maker of cellular phones, has developed its first phone with a fingerprint sensor, the LP3800.
The phone includes BankON, a way to wirelessly perform financial account transactions through the device, making it necessary to increase security.
Update: here is a picture of the new phone, direct from LG.
LG Telecom Selects AuthenTec Fingerprint Sensor For its First Biometric Cell Phone – the New LP3800; Sensor helps secure phone's unique wireless banking capabilities
MELBOURNE, Fla. & SEOUL, Korea–(BUSINESS WIRE)–Sept. 13, 2004–Cell phone users in Korea for the first time can now use the most convenient form of security – fingerprint biometrics – to protect their valued communication devices and conduct wireless banking services.
LG Telecom, one of the largest wireless network operators in Korea, recently launched its first biometric cell phone – the LP3800 – which features the newest fingerprint sensor from AuthenTec, the recognized number one semiconductor provider of fingerprint sensors to the global market. With the simple swipe of a finger, AuthenTec's tiny AES2510 sensor quickly identifies and enables authorized users to access the phone's full capabilities – while locking out thieves and stopping others from accessing the phones important files.
This is especially important given that LG's latest high-end mobile phone offers a broad range of advanced features including an MP3 player with stereo speakers, a mega-pixel camera, GPS location and data services, and BankON mobile-banking capabilities that allow authorized users to wirelessly access and perform BankON account transactions using their cell phones.
The AuthenTec fingerprint swipe sensor was integrated with the LP3800's Qualcomm (NASDAQ:QCOM) MSM6100 base band processor, which is one of the most widespread CDMA base band processors in the market today.
"As BankON gained popularity, the level of security for cell phones has been an issue. We are proud to introduce our LP3800, as it ensures the protection of the personal information," said Yoon June Weon, chief marketing officer at LG Telecom. "Also, the biometric technology allows users to securely use their handsets without having to type in pin numbers repetitively. It is much more convenient to protect their personal data." "AuthenTec's new swipe sensors were designed to provide the most convenient form of personal security for cell phones and a wide range of other devices," said Scott Moody, president and CEO of AuthenTec. "With the LP3800's advanced features and mobile-commerce capabilities, this added level of security provides important protection and clearly sets this phone apart."
Unlike other fingerprint technologies, AuthenTec's TruePrint technology allows fingerprints to be read below the surface of the skin to the live layer – or true fingerprint. As such, TruePrint is not affected by common skin surface conditions including dry, worn, calloused, dirty or oily skin that can affect other sensors' ability to acquire accurate fingerprint images for user authentication purposes. Uniquely, TruePrint is the only fingerprint sensor technology capable of acquiring everyone's fingerprint under virtually any condition.
The AES25xx family sets new standards for being the smallest, most advanced, lowest cost, and lowest power fingerprint slide sensors in the biometrics industry. The AES25xx's ultra-small package is optimized to ease the design challenges of today's mobile devices and other small form-factor products. The AES25xx provides convenient security for: physical devices; sensitive information such as personal and professional data; password replacement for Web and network login; and mobile commerce transactions.
About LG Telecom
LG Telecom, the world's first mobile telecommunications service provider of CDMA technology, is one of the leading wireless network operators in South Korea. Since the company launched its commercial operations of Personal Communications Service in 1997, it has showed continuous growth. LG Telecom was the first operator to launch wireless internet service in Korea, and was the first to develop Java Station, a Java technology used in CDMA phones in the world. Currently, the company initiated a new era of mobile financial transactions, and BankON – a mobile banking system – has gained great popularity. More than one million people are members of BankON, while LG telecom has about 6 million users.
About AuthenTec, Inc.
With three million sensors deployed worldwide, AuthenTec is the leading semiconductor provider of fingerprint sensors to the PC, wireless, PDA, access control and automotive markets. AuthenTec's FingerLoc(R) and EntrePad(R) product families utilize the company's patented TruePrint(R) technology, the first technology to make fingerprint biometrics viable for mass-market adoption. AuthenTec is a two-time AO100 Top Private Global Company, as well as a repeat winner of Frost & Sullivan's Market Leadership Award. The company's network of partners, solution providers and customers include Analog Devices (NYSE:ADI), APC (NASDAQ:APCC), Bioscrypt, Computer Associates (NYSE:CA), Delphi, Fellowes, IBM (NYSE:IBM), LGE, Microsoft, Motion Computing, Precise Biometrics (PNK:PRECCA.ST), Samsung (PNK:SSNGY.PK), Saflink (NASDAQ:SFLK), SCM Microsystems (NASDAQ:SCMM), Targus and Texas Instruments. Privately funded, investors in AuthenTec include The Carlyle Group, Sierra Ventures, TI (NASDAQ:TXN), Harris Corporation (NYSE:HRS) the China Development Bank, and others. For more information, visit www.authentec.com. All trademarks or registered trademarks are the property of the respective holders.