Major merchants sign on to accept PayPass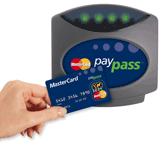 By Dee Ann Kuhn, Contributing Editor
This fall an even greater number of consumers will be able to tap and go with their PayPass cards thanks to an ongoing expansion of merchants signing on to implement the MasterCard-trademarked contactless card technology. Meijer Stores, a Grand Rapids, Mich.-based grocery store chain announced in August that it would be the first supermarket to offer PayPass at all of its 171 locations. Meijer's plans follow Oakbrook, Ill.-based McDonald Corp.'s announcement that the fast-food giant plans to expand PayPass acceptance across all of its restaurants that accept credit cards here in the U.S. by year end.
Could it be that the revolutionary concept of cashless payment other than credit and debit card options is finally getting the attention it deserves following years of trials here and significant implementation overseas? Radio frequency identification-based payment, initially considered a fast and secure method suitable for fare-based applications, such as mass transit and parking venues, is now infiltrating all realms of service establishments, both here and abroad. Industry observers note that in today's fast-paced society, the convenience, speed and security of contactless cards is catching on quicker than did the introduction of debit cards more than a decade ago. In fact, the whole personal identification number- (PIN) or signature-based debit concept still leads to confusion for many users.
"There's definitely merchant willingness to support the technology," says MasterCard's T.J. Sharkey, Vice President of U.S. Acceptance/Business Development. "We're having more merchants come to us than we are going out to them. If PayPass fits from a technical perspective (hardware and software), then it's a go."
Adapting an existing terminal with the PayPass technology, depending on the life cycle of the system, is easier than having to swap it out for a new solution, MasterCard's Sharkey explains, adding that merchants are readily willing to do whatever it takes to support the technology.
According to Sharkey, five to seven terminal manufacturers have been approved to offer PayPass solutions, including Verifone and Hypercom, and MasterCard is working with other terminal vendors to be type-approved to carry PayPass. In addition, MasterCard is currently working with its current vendors to perfect a weather-resistant solution for stand-alone, drive-thru consumer access.
Supporting PayPass "is a decision we make in partnership with our McDonald franchisees," says William Whitham, McDonald Corp. spokesman. "We need to ensure this is a value-added option not only for the franchises but also for the customers."
Approximately 8,000 McDonald's restaurants currently offer the PayPass option, including a few equipped to accept the cards at the drive-thru window. In all, some 12,000 of McDonald's 13,700 U.S. restaurants accept some form of cashless payment.
"We're moving aggressively to increase the number of restaurants to accept credit and debit cards, including PayPass," Whitham says, adding that the chain probably won't ever reach 100% card acceptance across its restaurants, but the vast majority of them will. And, at some point, McDonald's plans to put advertising and marketing muscle behind the PayPass initiative to make consumers aware of the added convenience, he says.
Meanwhile, Meijer hopes to implement PayPass in all of its 171 store locations by mid-September as well as upgrade its on-site fuel pumps by early fall. Meijer also announced that it will equip its cobranded Meijer Platinum MasterCard with PayPass contactless functionality, allowing cardholders the benefits of rewards accrued through purchases made with PayPass as well as through traditional magnetic-stripe transactions.
MasterCard's aggressive campaign to sign merchants doesn't end with one leading retailer per category. Sharkey says MasterCard is in conversation with other leading quick-service restaurants and expects to include acceptance among other categories, citing bookstores, transit and parking among potential areas of interest. The driving force, Sharkey explains, is everyday purchases – anywhere where the average ticket is $25 or under and where you can move through the lines quicker. "Our goal is not one merchant per category but anywhere consumers have an opportunity to use the card on a daily basis."