Manchester City Football Club scores with new contactless cards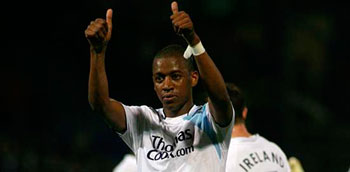 Altair Financial Services International has helped deliver the "first stadium contactless prepaid card in Europe," the Manchester City FC MasterCard Prepaid Seasoncard with PayPass, with MBNA and MasterCard as well helping.
The card will replace the standard season ticket currently issued to supporters.
"We are delighted to have delivered such an innovative and remarkable payment card program, which is among the most technically advanced in the world today," says Lee Britton, Altair CEO. "The cards make use of EMV functionality, which has never been implemented on a prepaid card program before, enabling the cards to manage their own authorisation activity when used at contactless terminals."
The Manchester City FC MasterCard Prepaid Seasoncard, currently on trial with 3,500 season ticket holders, combines three applications in a single piece of plastic. The card stores membership data and is capable of interfacing contactlessly to the Manchester City Stadium turnstiles to allow entry to home matches, it also supports standard Chip and PIN payments and contactless payments with MasterCard PayPass.
"Cardholders can also use their card outside of the stadium to make purchases at both chip and PIN and contactless point of sale devices." Says Britton.
Brendan Jones, Product Executive at MBNA, said: "The Manchester City FC MasterCard Prepaid Seasoncard with PayPass is a great innovation in stadium technology. We believe this concept will work both inside and outside of stadia, and will revolutionize the way people use cash."
The card supports EMV scripting which allows Altair to dynamically update data held on board the card when it is used in a Chip and PIN reader. This is a powerful tool which allows management of individual cards, in support of fraud control, offline balance management, card blocking and so forth.
Richard Pinnick, Head of Global Strategic Projects at Fortress GB, the company responsible for the provision of the application that controls membership and access to the stadium commented, "The coexistence of multiple applications, managed by different organizations, on a single MasterCard represents a quantum step forward in thinking for the card industry, simply driven by the needs of the fan. It opens the way to new and innovative card programs that deliver a multiplicity of functions and services that best fit the lifestyle and environment of the consumer."
The contactless card concept has been proven by millilions of passengers globally that use RFID enabled cards for public transit daily.