Mastercard assesses countries' readiness for mobile payments, Japan bodes well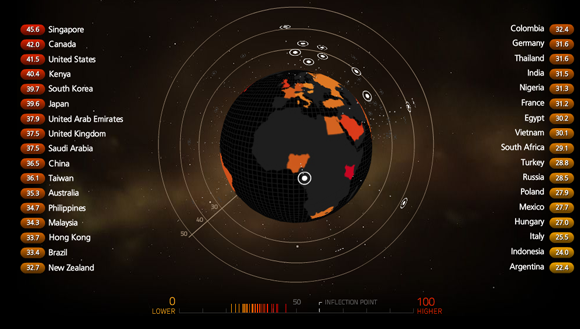 The latest installment of MasterCard's Mobile Payments Readiness Index was has been released and will be on display at Sibos in Osaka, Japan.
According to a release on MasterCard's website, the readiness index analyzed 34 countries, assessing their readiness to incorporate and use three types of mobile payments— person-to-person, mobile web commerce and mobile contactless payments at the point of sale.
The Index revealed that Japan scored well on a majority of the measured components, but consumer readiness will likely be the critical factor behind the drive toward mobile payment adoption and success in Japan. While Japanese consumers are not yet sold on mobile payments— an estimated 8% are willing to use it— the index does reveal that the Japanese public is taking notice of m-commerce as 20% of Japanese consumers reported a familiarity with the technology.
It is this gap between consumer familiarity and willingness to use that will stifle mobile payment adoption in the country, and thus is a point of worry for MasterCard.
Where Japan scored particularly well was in the areas of financial services, mobile commerce clusters and infrastructure. The Index reveals that Japan not only has the broadest range of financial services in the world, but an impressive customer service rating at 91%.
The MasterCard Index recognized Singapore, Canada, the United States, Kenya and South Korea as the most prepared global markets. Furthermore, the Index suggests that while mobile payments are still in the early stages of adoption, all global markets— both highly scaled and integrated like the UK or compact and technology-driven like Singapore— are making progress towards mobile payments.
Of particular significance from the report is that nine of the top 10 highest consumer scores are from the Asia/Pacific, Middle East and Africa regions.
MasterCard posits that strategic partnerships between key players in the mobile payments industry will be pivotal to the commercialization of the technology. Cooperation and collaboration between financial institutions, telcos, governments and technology providers could very well be the catalyst needed to spark the widespread adoption of mobile payments.
For more information read the full press release on MasterCard's website.