MasterCard ranks countries for 'Mobile Payments Readiness'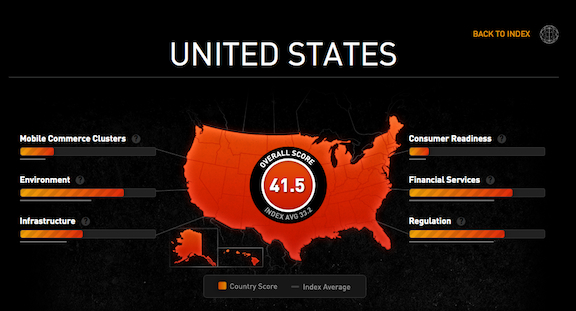 Singapore, Canada, the United States, Kenya and South Korea have topped MasterCard's newly released Mobile Payments Readiness Index (MPRI), an analysis of 34 countries and their readiness to use three types of mobile payments: person to person, mobile Web commerce and NFC-enabled mobile contactless payments at the point of sale.
According to MasterCard, each market was ranked on a scale of 1 to 100 with scores derived from an algorithm comprised of over 50 quantitative and qualitative inputs including economic, demographic, telecommunications and payments industry data as well as proprietary consumer research. These inputs were then weighted and combined into six components: Environment, Financial Services, Regulations, Infrastructure, Consumer Readiness and Clusters and Partnerships. The six components were combined, yielding a single readiness score for each country.
The Index indicates that while it's early stages for mobile payments adoption, all markets globally – either highly scaled and integrated ones like the United Kingdom or compact and technology-driven ones like Singapore – are making progress towards reaching an inflection point where mobile devices account for an appreciable share of the payments mix. According to MasterCard, no two markets are the same, and consumer readiness is the critical success factor to drive mobile payments adoption around the globe.
The Index also shows that in some markets such as Australia, young affluent consumers between the ages of 18- and 34-years-old are the most willing to engage in mobile payments over cash or payment cards. While this demographic was predominantly male in most countries, women showed higher levels of interest in countries such as China, Egypt and the Philippines.
Other findings include:
Nine of the 10 markets with the highest consumer scores are in APMEA (Asia/Pacific, Middle East and Africa).
Of the three mobile payment types, more consumers had engaged in m-commerce in 71% of the countries surveyed.
In developing economies, consumers are typically drawn to mobile payments for access to the larger economy, both national and global, as well as to a regulated and secure economic infrastructure. Consumers in the developed world are drawn to the convenience of mobile phone payments.
"Technology infrastructure, a responsive regulatory environment and a robust economy are table stakes for the advancement of mobile payments," said Theodore Iacobuzio, vice president of MasterCard Global Insights. "The necessary conditions are consumer readiness and industry integration. As no one entity can develop and promote mobile payments by itself, key players in the ecosystem must work together to collectively advance the cause of mobile payments."
Click here to view an interactive MPRI map.