McCarran International Airport expands RFID technology to new terminal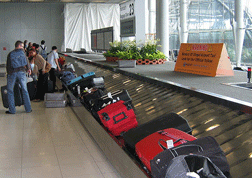 McCarran International Airport (LAS) in Las Vegas has installed Gen2 RFID technology as part of its recently expanded baggage tracking system in the new Terminal 3 building.
Vanderlande Industries was awarded the $92 million baggage handling system, which includes 30,000 feet of conveyor, more than 10,000 feet of catwalk, 73 high speed diverters, 32 carousels, 20 Vertisorters, and 55 Over Belt RFID readers.
At McCarran International Airport, RFID technology allows staff to easily organize baggage loading, locate misplaced baggage and check the status of certain baggage. The technology also helps improve customer satisfaction and safety and reduces cost related to misplaced baggage.
Vanderlande used its own baggage handling software, VIBES, for the inbound control system. The VIBES control software suite is compliant with the latest TSA (Transportation Security Administration) regulations and handles all processes from routing, tracking and tracing to gathering and visualizing process information. For the outbound control system Vanderlande worked in conjunction with Alliant Technologies.
The domestic section of Terminal 3 opened on July 31, with the entire project scheduled for completion by the middle of August.