Merchant Warehouse reveals Genius all-in-one POS system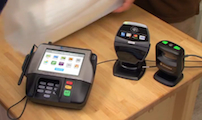 Merchant Warehouse has unveiled Genius, a payment acceptance solution designed to handle every available payment type on one counter-top device.
Slated to launch this fall, the Genius Customer Engagement Platform integrates all types of mobile payments, including NFC, QR codes and mobile wallets as well as loyalty, gifting and rewards programs. Genius also accepts card payments using traditional magnetic stripe, contactless and EMV technologies.
Merchants can decide which of these payment technologies to accept by using the customer engagement device (CED). From the CED, merchants can add new payment types and value-add programs on the spot by simply downloading the application of their choice from the Genius Solutions Center. According to MW, Genius is constantly updated thanks to its cloud-based architecture, giving merchants and POS developers the opportunity to integrate new payment types instantly.
For security, Genius combines end-to-end encryption to protect customer data throughout the entire transaction process. The PCI-compliant solution also incorporates tokenization technology that is designed to split sensitive and non-sensitive data to reduce the risk of security breaches.
Check out the video to see Genius in action: