Metro set to move forward to Gen 2
Trailblazing retail giant decides to keep rolling out after successful world-famous pilot program
By Stephen Barlas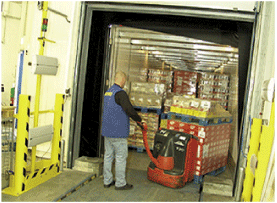 With the Gen 2 standard all but a reality, Metro Group, the large German retailer, is getting ready to push its pilot RFID program to a second stage. Since November, 20 consumer goods vendors have been tagging pallets destined for 20 stores with a Phillips Electronics "hybrid" chip that straddles U.S. and European standards. The chips have been incorporated into inlays attached to pallets going to a few mammoth distribution centers such as its facility in Unna, as well as its Metro Cash & Carry and its Real and Kaufhof divisions.
Those locations are equipped with RFID readers made by Intermec Technologies. The company will have spent "in the upper single-digit million euros" in the first year of the pilot, according to Albrecht von Truchsess, Metro spokesman. He declines to break out those costs. Pilot studies show that warehouse costs can be reduced by 11% and stock-outs by 14%. Loss from goods that never show up at a DC dropped by almost 18%.
When Metro's RFID pilot began, the company specified a 1.19 chip that is built to standards established by the International Standards Organization (ISO) as opposed to standards published by the U.S.-dominated EPCglobal. The 1.19 is a "European" chip, for want of a better term, based on ISO 18,000-6B. Its air interface and numbering scheme—which together make up the chip's protocol—are different from the EPC Class 0 and Class 1 standards.
Recently though, manufacturers participating in the Metro pilot have been using a Philips Semiconductor chip called a "tweener," according to Ed Gonsalves, business development manager at Philips Electronics. It has an ISO air interface and an EPC numbering convention. "We will go to Gen 2 tags as soon as they are available," von Truchsess says.
Gonsalves says that for a simple "license plate-type" Gen 2 tag, there will not be a fundamental price increase over 0's and 1's in the high volume they are likely to be produced in. "Tens of millions of units is low-volume."
Gonsalves points out that the price of an RFID inlay—a laminated chip and antenna—costs about twice the price of the semiconductor itself.
Readying for the next generation
Metro is already prepping for the arrival of cartons with Gen 2 tags. Intermec has upgraded its IF5 Intellitag readers at the Unna DC. Upgrading is fairly simple and frequency interference is less of a problem, too.
Paul Fox, director of external global relations for the Gillette, one of the original 20 first-stage Metro participants, says his company is tagging pallets of Braun electric shavers and various razors.
By comparison with the relatively few products it is tagging on pallets in the Metro pilot, Gillette is tagging cartons and pallets of almost all the products it sells to Wal-Mart—about 400 SKUs. Because of its narrower initial implementation, Metro has been much easier for vendors to work with, according to some suppliers. "Take Procter & Gamble," explains von Truchsess. "They are putting RFID tags on pallets of Pampers only. We are working only with products made of paper and plastic, no metals or liquid, because they can make it hard for readers to recognize the tag. We've started with the easy things."
The fact that just 20 Metro suppliers are tagging pallets of easy-to-read goods may help be a factor in Metro's January announcement that it had reached 99% read rates on the 50,000 pallets that had come through the doors in Unna.
Despite all the ballyhoo over its Future Store in Dusseldorf, which is equipped with product shelf readers and automated payment kiosks at the exit, all keyed to smart chips on product packaging, Truchsess admits, "It might take us 10 to 15 years to get a smart tag on every lipstick."
This article originally appeared in the Premiere issue of RFID Operations.