Miami-Dade makes launching a contactless fare collection system easy
Miami's new smart card-based transit system rolls out in record time
By Ed McKinley, Contributing Editor, AVISIAN Publications
A new $42 million contactless smart card fare-collection system is helping Miami-Dade County Transit (MDT) boost ridership, streamline routes, combat fraud and make its service more convenient. Miami's transit system is the nation's 14th largest with a thousand buses, a 23.5-mile Metrorail system and a free 8.5-mile downtown Metromover system.
To smooth the transition to tapping the new plastic EASY Cards and paper EASY Tickets on contactless smart card scanners, MDT looked inward to draw upon the experience of its own transit chief and went outside itself to seek help of an experienced vendor.
The in-house font of experience was Harpal S. Kapoor, MDT director. Kapoor had worked his way up during 15 years in Miami but had not pursued a straight career trajectory. He left MDT for a while, spending six years with the Washington Metropolitan Area Transit Authority. It was while working in the nation's capital that he gained experience in the installation of new fare systems.
The system Kapoor helped set up in Washington resembles the new one in Miami. Both are based on the Nextfare Solution Suite from San Diego-based Cubic Transportation Systems Inc. Cubic has been selling the system for about seven years, says Steve Brunner, the vendor's senior program director.
Nextfare is operating in cities and regions that include Atlanta, Baltimore, Los Angeles, San Diego, Minneapolis, Philadelphia and New York-New Jersey, says Brunner. "Among cities that have systems," he adds, "I can only think of one major city in the U.S. we don't have."
MDT and the county commissioners chose Cubic in a competitive process designed to find "the most responsive and responsible vendor," says Kapoor. MDT awarded grades to bidders for low cost, technical savvy and tight scheduling–with Cubic emerging victorious. Coincidentally, Cubic had also supplied the 26-year-old system MDT wanted to replace.
In a hurry
When considering vendors, MDT was motivated partly by a desire to convert to the new fare-collection system as quickly as possible. MDT was in a hurry to staunch losses from fraud, provide convenient features for riders and begin collecting data more efficiently to improve the transit system's operations, says Kapoor.
The official launch came Oct. 1, about 15 months after MDT signed the contract. The quickest previous project required more than 18 months to implement, says Richard Wunderle, Cubic senior vice president and general manager.
Cubic managed to expedite the process because it has deployed the Nextfare system 11 times, Wunderle says. "While each customer has specific and unique requirements that we incorporate into the design," he says. "The basic software platform and much of the infrastructure is the same so we don't reinvent the wheel each time."
Still all parties agree that getting the wheel to roll straight and quickly required cooperation. MDT retained control of the parts of the project its leaders believed they could do better and gave Cubic authority where it could operate more efficiently, Kapoor says. "Then we came together as a team to see how we could deliver it faster," he says.
The sooner the new fare system came online, the sooner MDT could thwart the thieves who were counterfeiting paper bus transfers and monthly magnetic-stripe rail passes, says Kapoor. Fare beaters also found it easy to walk through gates intended for the handicapped.
Now all gates are kept closed, and no one enters without tapping a card or ticket on a reader. If someone does succeed in sneaking into the system, he or she is required to "tap out" to leave, thus creating another opportunity to apprehend the fare beater.
The power of data
The new fare system also furnishes MDT with much richer data than the old system. Transit officials learned soon after installing the new system that riders seldom used 1,500 of the 10,000 bus stops scattered around the county, Kapoor says. That knowledge enabled MDT to eliminate stops or relocate them to higher-traffic areas.
MDT expects to discontinue some bus routes and plan schedules more effectively saving millions of dollars per year, all because of the ridership data provided by the new system, Kapoor says. He could not calculate the exact savings because the system had been in place only a short period as of press time.
The new data also indicates where to place stops to shorten walks for senior citizens. Seniors who live in the county full time qualify for free public transportation with their Gold Passport cards. Now, officials can track the timing, distance and locations of their travel to make sure the system meets their needs.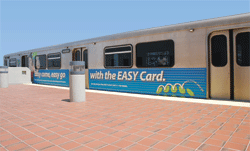 Public outreach
In addition to wanting to take advantage of the system's benefits as quickly as possible, MDT sought a smooth transition to the new way of paying fares. "We took the customer support in-house," says Kapoor. "We used our staff. Outreach was done by our marketing department in connection with Cubic."
MDT took responsibility for teaching customers how to use the new cards, tickets, fare boxes, turnstiles and readers, and the effort succeeded, Kapoor says. For starters, users can call for help by dialing a phone number printed on the back of tickets and passes. The staff compiles a list of the top five concerns and takes action in response, he says.
Web traffic reveals that few riders are reporting problems. Of 92 million hits on the MDT site where riders can load value onto the cards and tickets, only 3,700 visits involved inquiries or complaints, Kapoor says. "Basically it's less than .04%," he says of the hits that indicated problems.
"I give credit to my marketing staff," Kapoor says of the customer-training effort. "They led the whole outreach effort passionately and took every complaint seriously. When we had issues, we adjusted right away."
The 65,000 passengers who take the MDT trains each day are regular customers who adapt quickly to fare-collection changes. They do not represent as big an outreach challenge as the 250,000 who catch the buses each day and may be the occasional rider, Kapoor says.
To reach both types of passengers before the launch and during the early days of the new system, MDT positioned staff members at the gates and at machines to assist with the new cards, says Clinton B. Forbes, senior executive assistant at MDT. A "soft launch" on Sept. 18, with the new cards and tickets, gave the staff time to deal with glitches and helped riders get used to the new system.
MDT gave away half a million plastic EASY cards before the launch, Forbes says, to help acclimate customers to the new system in advance.
The cards cost $2 each and last three years, while paper EASY tickets have no extra fee and have an expected life of 30 days or less. The cards and tickets all contain microchips and antennas, says Cubic's Brunner. Cubic typically charges transit authorities $2.49 each for the cards he says.
Online passengers can buy or reload cards and tickets, check the balances on their cards or sign up for a service that automatically deducts fares from another payment card, Brunner says. Employers can use another site to manage the transit benefits they provide their workers, he adds.
MDT buses have new fare boxes that accept cards, tickets, coins and bills, says Brunner. In the rail system, the gates accept only cards and tickets. Vending machines at the rail stations accept coins, bills, credit cards and debit cards and more than a hundred convenience and grocery stores sell and reload cards and tickets.
Going live
Finally, the sun rose on Oct. 1. Early that morning Forbes stood on a platform at Dadeland South Metrorail Station, one of the busiest points in the transit system, prepared to witness the new fare-collection system in action.
"We have buses that come into that station and unload 60 to 70 passengers at a time," Forbes says. "This is the first time folks are going to have to use the new fare media in order to get to the gates. Is the system going to work?"
He watched anxiously as a busload of passengers "seamlessly" disembarked, walked into the station, tapped their cards and entered. "It was a beautiful thing to see," he recalls.