More contactless project trials bode well for the technology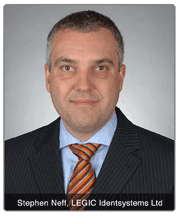 Part of the AVISIAN Publishing Expert Panel series to be published throughout December 2006
Stephen Neff, Vice President Sales and Business Development LEGIC Identsystems Ltd

The Cartes show held recently in Paris confirmed my feeling that the year 2007 will be a great one for the whole contactless smart card industry. The almost overwhelming number of new and innovative applications being presented by exhibitors and speakers alike bode well for the next few years.
What's impressive is the fact that a large number of public projects are in the trail phase and if successful could be the engine for the real growth that the business needs. For instance new applications schemes such as e-payment, NFC, e-passport and the like will have a continued effect on educating the market place. That means the traditional areas of contactless smart cards, such as ticketing, access control and campus cards will continue to grow strongly.
However, what I also believe will be a trend is the demand for stricter regulation and technological ingenuity to ensure that data cannot be skimmed or gathered unknowingly. It will be a challenge for the industry to address these concerns, be they justified (in some cases) or unjustified (in other cases).
The success of many new applications for contactless smart card technology will depend on providing defenses and mechanisms that safeguard user data and privacy even if this means higher initial investment costs for system operators and system providers. This implies that solid technological security mechanisms should have priority over marketing statements that are very often written by unknowing corporate PR people who have a different – or little – understanding of the potential issues at hand.
Granted no system or technology is, or will be, secure forever, but as the market becomes more educated about RFID and contactless smart cards, it's important that everything is done to ensure that the industry does not end up with egg on its face as a result of misinformation, misinterpretation or, as in most cases, misunderstanding. This would be a shame as we all know that contactless smart card technology can offer security features on par, or in most cases, beyond what is used today.
I think that the above two trends alone will make 2007 a challenging and interesting year. It may be the year that could lay the growth cornerstone for many years to come. We as a company expect overall growth, like this year, to be double digit again and look forward to another successful year.
Near Field Communications News and Insight
Explore more developments dealing with the implementation of Near Field Communications, a short-range wireless technology that promises to revolutionize contactless identification, payment, access, and more.
Click to visit NFCNews
.