Near Field Communications (NFC) moves from concept to reality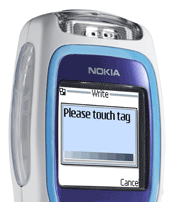 Designed to link electronic devices, Near Field Communication technology could end up turning the cell phone into a "Swiss Army Knife." Some of the first projects out of the gate link NFC-capable phones to contactless payment and ticketing solutions while others allow users to download music from a poster advertising a hit band.
Sebastian Nystrom, head of innovation acceleration for Nokia, one of the companies that founded the NFC Forum last year, said there are three things you can do with NFC right now: "You can read information from tags with a URL (embedded in it). You can touch the tag and launch whatever service the URL is pointing to. Second, two devices can talk to each other. For example, you might have a phone with NFC and a bluetooth headset, which means you can easily set up the connection. Third is a payment or ticketing transaction."
Along with Nokia, Royal Philips Electronics and Sony Corporation were the other co-founders of the forum designed to promote the NFC technology. "NFC provides connectivity with an existing infrastructure," said Mr. Nystrom. "You look at any technology; NFC has gone quite far and quite fast." He speculated that the forum would announce NFC specifications next year. "The basic enablers are already in place."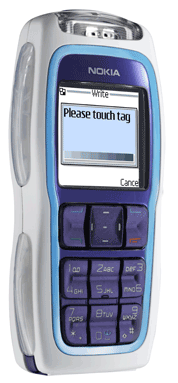 Nokia pilots NFC …
Nokia is already moving ahead with several NFC-capable projects, or at least their pilots. The Nokia NFC shell, announced late last year, would allow consumers to access a variety of services and exchange information with a "touch gesture" utilizing NFC. As its name implies, the shell is a casing designed for Nokia's 3220 mobile phone. With the Nokia shell, consumers have access to browsing and text message services simply by touching tags that contain service shortcuts. Consumers are also able to give their favorite service shortcuts to other users by touching another NFC-compatible device with their phone. In addition, the Nokia NFC shell comes with tags that can be used for creating their own service shortcuts, according to Nokia.
Also last year, Nokia and Philips announced a joint project with Rhein-Main Verkehrsverbund (RMV), Frankfurt's public transport authority, to trial an NFC ticketing solution that uses mobile phones to access an existing contactless smart card ticketing infrastructure. The trial will enable RMV's current customers to use Nokia 3220 phones equipped with the shell covers to gain access to a local bus network in Hanau, a city near Frankfurt.
And earlier this year, Nokia introduced a new product for secure mobile contactless payments and ticketing, an enhanced version of its NFC shell that, according to the company, "delivers the promise of NFC-based services, covering service discovery, payment and ticketing."
With the Nokia NFC shell for payment and ticketing, the consumer can conduct local transactions with a mobile phone, simply by touching a point of sales device or ticket gate. A consumer's payment credentials, such as debit and credit cards, and transport tickets are stored in the integrated smart card chip of the Nokia NFC shell. It is also compliant and interoperable with the contactless smart card infrastructure. Hence additional investments are not required, said Mr. Nystrom.
If a company is renewing its ticketing system, "They're likely to go with contactless. That means this ticket solution is growing," said Mr. Nystrom. "The payment industry is moving to contactless. In other words, the underlying infrastructure is definitely in place and it's growing quite rapidly."

Motorola follows suit …
Another company stepping into the NFC arena is Motorola, which is investigating the NFC payment structure in a pilot program with MasterCard's Paypass contactless solution. Raja Natarajan, portfolio director for Motorola's security technology group, said "the internal pilot with MasterCard is in the process of being expanded with what I would call our next generation of phones. Think of them as the next generation of prototype phone. We haven't announced any of those phones for commercial availability yet."
These phones will be tested in one of MasterCard's member bank locations. "We're conducting initial internal trials at both Motorola and MasterCard locations," said Mr. Natarajan. Obviously, he added, with Chicago being Motorola's headquarters, that's the site of one of the tests.
"We've taken the commercially available phone and taken the necessary steps to make it NFC capable," he said. "It will have the look and feel of a fully integrated phone; but we want the option of adding to it after the sale," which would keep implementation costs down.
"NFC, by definition, is required to be powered," he said. "You cannot have an NFC device that doesn't have power, so phones and PDAs are likely candidates for NFC uses." And he adds, more NFC applications are coming, "for example, you can use it for ID management, access control, like you're using contactless badges to access buildings today."
Motorola has also demonstrated smart music posters, "where NFC phones could be touched to the poster and download the rights and the song," said Mr. Natarajan.
Eventually, users will be able to access or open a file drawer with an NFC phone, ditto with door locks or car doors, and it can automatically set the temperature and radio station if it knows who you are. "The phone will be like a Swiss Army Knife," said Mr. Natarajan.


Inside Contactless promotes it eNFC …
Another contender in the NFC arena doesn't call its product NFC, but eNFC for "enhanced NFC." Designed by INSIDE Contactless, a Paris, France provider of 13.56 Mhz contactless chips, eNFC is not a competitor of NFC, emphasized the company's chief technology officer, Bruno Charrat.
eNFC differs from the standard NFC in that it incorporates additional contactless products. As Mr. Charrat explained: "eNFC includes the compatibility of…NFC technology, enhanced with ISO14443 Type B and ISO15693 standards making it compatible with the (broader) infrastructure in place." While NFC works only with ISO 14443 Type A and Sony's FeliCa protocols, eNFC is also compatible with ISO 14443 Type B and ISO 15693.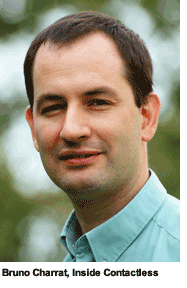 The eNFC technology allows devices to behave as a reader and as a card, according to the company. Thus, it can receive commands from any standard proximity contactless reader and send back responses in the same manner as would a contactless smart card. With this feature, any consumer electronic device can interact with millions of readers already in place everywhere in the world to exchange data or to perform secure transactions, regardless of the access protocol.
Added Mr. Charrat, were the NFC Forum (of which INSIDE Contactless is a member) to integrate Type B and 15693, then we'll remove the 'e' because it will be fully integrated with NFC."
INSIDE is preparing two pilot programs using eNFC. One involves cell phone access control using ISO 15693 and HID's iCLASS and the other involves transit ticketing with a yet-to-be-named transport operator and cell phone manufacturer and Type B chips.
Near Field Communications News and Insight
Explore more developments dealing with the implementation of Near Field Communications, a short-range wireless technology that promises to revolutionize contactless identification, payment, access, and more.
Click to visit NFCNews
.