New CEO for CPI as Ted Fick joins card manufacturer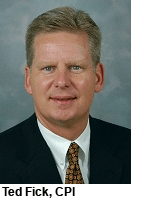 CPI Card Group has a new President and CEO. Ted Fick comes to the U.S. card producer from a recent role as president of Termo King Corp. Mr. Fick says, "CPI is an innovative, responsive, industry leader that is high quality and customer-focused. These traits, coupled with a strong sense of teamwork and the strength of the Tricor Pacific Capital group, make this a winning combination for our customers."
CPI Card Group Welcomes Ted Fick, President and CEO
It is with great pleasure that CPI Card Group announces the newest member of our senior management team, Ted Fick. Ted joins CPI as President and Chief Executive Officer. Ted brings more than 24 years of leadership experience to CPI; most recently he was President of Thermo King Corporation, a leading supplier of transport refrigeration equipment. Prior to that, he was Vice President of Commercial Tire Systems at Goodyear and Senior Vice President at Hino Diesel Trucks, a subsidiary of Toyota. He spent 17 years at PACCAR, where he held increasingly responsible leadership positions in sales, marketing, plant management and general management.
Ted has been recognized throughout his career for leading companies to record sales and operating income results, including strong strategic planning skills, cost reduction initiatives, building high performance teams and creating marketing differentiation to improving operating ratios. Some of his expertise includes general management, sales and marketing, supply chain management, cost reduction, lean / Six Sigma and product innovation.
Ted earned a master's of science degree in management from Stanford University, where he was a Sloan Fellow, a master's of business administration degree from the University of Puget Sound and a bachelor of arts degree in economics from the University of Washington.
When asked why CPI was attractive to Ted, he responded, "CPI is an innovative, responsive, industry leader that is high quality and customer-focused. These traits, coupled with a strong sense of teamwork and the strength of the Tricor Pacific Capital group, make this a winning combination for our customers."
About CPI Card Group
A world leader in plastic card manufacturing for over 20 years, CPI offers a single source for plastic cards from foil cards and holograms, to translucent and smart cards. CPI's two ISO 9001:2000 certified sites include CPI Card Group – Colorado, Inc., in Littleton, Colorado, and CPI Card Group – Nevada, Inc., in North Las Vegas, Nevada. CPI Card Group produces high-quality, general-purpose, magnetic stripe and smart cards for many applications. Certified to produce contactless products, our facility specializes in distinctive cards and we offer the largest production capacity in North America.