New organization, "WISE," networks women in security industry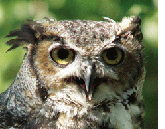 By Lauren Lowrey, Contributing Editor
Don't let the flying owl or the acronymic name fool you into thinking this new initiative isn't soaring. WISE, Women in Security Electronics, is the newest non-profit organization to hit the security industry, and it's headed by five prominent women in the industry.
Knowing the industry needed a one-of-a-kind organization promoting women in security, these women teamed up to create an organization focused on creating environments to help women succeed, to train a higher caliber of women, and to recognize companies succeeding in these endeavors.
"It's funny, but the more I hear people tell me this is a predominantly male industry, the more women I see. It is as if we've collectively taken it on as a challenge," said Joy Creasy, PSP, Director of Client Services for Tech Systems, Inc. and Communications Chair of WISE.
Women from all segments of the marketplace including major manufacturing corporations, associations, the media, and integration companies are already WISE members. The non-profit professional networking organization is focusing on mentoring and educating the industry's women while providing them with opportunities to meet other women in the field.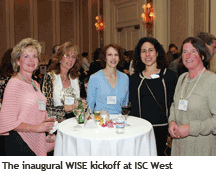 WISE had its inaugural event April 5 at ISC West inviting guests to come "Be a Part of History." According to Carole Dougan, National Accounts Manager for Pelco and Events Committee Chair for WISE; "We were targeting an initial attendance of 50-100 people and were thrilled to have nearly 150 in attendance – the event was a tremendous success."
"The ISC West event was successful in helping us exceed our first year goal of 100 charter members," added Jennifer Walczak, WISE Membership Chair and Executive Vice President of Dedicated Micros.
Some potential members may be distracted by "Women" being in the name of the organization but Ms. Walczak has this to say: "Don't let the name of our organization fool you. We encourage men in the industry to become members, too. They play a big part in our success because they appreciate the important contributions women in the security industry have made over the years."
Membership in WISE is simple. The organization is open to all men and women working in the security electronics industry in North America, and requires only that you fill out an affidavit with a charter membership fee of $75. WISE is pleased to offer the following benefits of membership to its many friends in the industry:
Full access to the members-only website, including unadvertised job postings, discussion forums, an international member directory and insiders newsletter;
Discounted registration to all national events;
Access to local and regional networking events;
Mentoring and training for career enhancement from long-standing industry professionals;
Personalized womeninsecurityelectronics.com email;
CEU credit for professional industry recertification;
…and unlimited opportunities to provide a legacy!
In the future, you can be looking for WISE men and women at ASIS-Orlando where not only will they have a booth and some non-structured mini events, but they will be teaming up with industry veterans and their sponsors for an educational panel.
WISE has a helpful and informative website with all the information necessary to understand the organization. For this information, visit their site at www.womeninsecurityelectronics.com. Thanks to their sponsors, the website is in the process of a redesign to better provide services to their members. Keep checking in on their progress!