New partnership plans on advanced biometric system deployment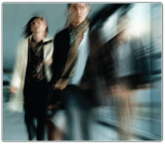 Biometrics firms Morpho and AOptix have formed a partnership to deploy advanced biometric systems targeted to border management and aviation security industries.
Under the terms of the partnership, AOptix products will be integrated into Morpho's border management product line. This includes InSight Duo, AOptix's combined face capture and iris recognition system.
The combination of products aims to speed up the biometric identification process, as well as offer greater security measures.
The duo will showcase their product line for automated authentication and identification at the Passenger Terminal Expo in Vienna, Austria from April 18 to 20.