New SIM card brings NFC to any phone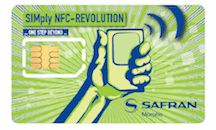 Morpho is offering a new SIM card solution that can turn any mobile phone into an NFC-enabled handset.
The first of its kind to hit the market, the solution brings NFC functionality – e.g., payments, ticketing, peer-to-peer data transfer, etc. – to any legacy handset by simply swapping out your old SIM card for a "SIMply NFC-Revolution" SIM (pictured).
Morpho says the product will help bring NFC quickly to market, making up for the slow pace at which handset markers are integrating the technology.
SIMply NFC-Revolution also has the advantage of requiring no external charge or retrofitting, meaning NFC transaction can be made even in disruptive environments (e.g. under the mobile phone's battery).
SIMply NFC-Revolution is being demonstrated by Morpho, which teamed with INSIDE for the solutions, at the Mobile World Congress in Barcelona.