Reading's NFC advert pilot a success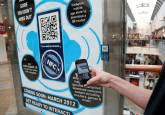 Kinetic and JCDecaux have announced positive results for their NFC-enabled outdoor advertising pilot in Reading, UK.
Launched this past March, the pilot saw more than 3,000 people scan the NFC-enabled poster sites, which were set up across Reading and in the Oracle shopping mall over a four-week period.
According to a survey conducted by the partners, 78% of users reported having a positive experience with the technology, citing NFC's ease-of-use.
The survey also found that 87% of people with NFC-enabled phones are likely to repeat the experience, while 80% of non-NFC phone owners said they would like to use it in the future.
According to the partners, the brands that elicited the most positive interactions did so through a combination of relevance, dynamic content and a strong call-to-action. There were strong download conversion rates, including an average of 28% for video content, rising to a high of 49% when the content was new and previously unseen.
Additionally, coupons were found to attract new customers, with activity highest where the poster site was in proximity to the store, but also in the area around the University and right across the city. Redemption rates for the coupons increased across the four-week period (rising from 7% to as high as 18%) as consumers became more familiar with the technology and the possible reward.