NFC-enable ads hit Sidney University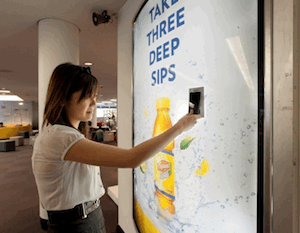 Unilever has partnered with Eye Corp and Tapit to launch an NFC-enabled poster campaign for Lipton Ice Tea at Sydney University.
The pilot will use Eye's Eyelite billboards equipped with NFC tags from Tapit. SU students with NFC-enabled phones can tap the tag with their handsets to instantly 'Like' Lipton Ice Tea on Facebook.
In addition to connecting to Facebook, Unilever can also use the technology to offer customers coupons, content and other interactive media related to Lipton, according to Eye.
This is the first NFC-enabled ad campaign for Eye Corp. According to the company, ad campaigns that use NFC and other interactive technologies are 25 percent more likely to stick with the customer up to six weeks after the campaign ends.