NFC-enabled Blackberry Bold 9900, Curve 9360 receive PayPass ceritification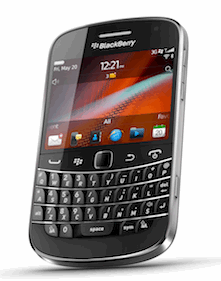 Research In Motion's BlackBerry Bold 9900 (pictured) and BlackBerry Curve 9360 smart phones have become the first SIM-based NFC handsets receive MasterCard PayPass certification.
According to RIM, any bank around the globe offering MasterCard PayPass technology can now deploy PayPass accounts directly to the SIM card on both smart phones, enabling owners to make contactless mobile purchases wherever PayPass is accepted.
The NFC-enabled smart phones, which debuted in August, are available in Europe through MNO France Telecom – Orange.
Andrew Bocking, VP of Handheld Software Product Management at RIM, called the move a "significant step forward" for the NFC payments ecosystem, adding that RIM is working with partners, banks, retailers and other industry players to promote the technology.