Nokia, JBL to launch NFC-enabled audio products.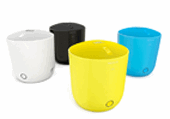 Audio electronics maker Harman is partnering with Nokia to develop a line of wireless consumer audio products under its JBL brand, starting with an NFC-enabled portable speaker – the JBL PlayUp.
Announced just a day after Sony's own portable NFC speaker, the JBL PlayUp Portable Wireless Speaker connects wirelessly to any existing Nokia Lumia phone via Bluetooth to play music directly from the phone. Next generation Lumia phones based on Windows 8 will also be able to connect to the speaker via NFC with a single tap, according to Nokia.
The PlayUP speaker also features a maximum output of 89dB for indoor and outdoor use, 10 hours of continuous play on a single charge, and comes with a standard 3.5mm headphone audio connector to connect with any mobile phone, computer or MP3 player.
Nokia has priced the PlayUP at €149 and will begin shipping the device by the end of the year. More NFC and Bluetooth-enabled audio products under the JBL brand are expected to follow.