Nokia, Orange to launch NFC-enabled Lumia 610 in Europe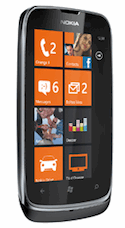 Nokia has announced that an NFC version of its new Lumia 610 smart phone will soon be available in Europe through mobile operator Orange.
The first Windows-based phone to feature built-in NFC, the Lumia 610 NFC has already been certified by MasterCard and Visa to make mobile contactless payments using their respective PayPass and payWave technologies, according to Nokia.
The handset will also be able to read NFC tags and posters out of the box, and can sync with other NFC devices such as Nokia's Play 360 stereo.
The Lumia 610 NFC is expected to be available early in the third quarter of 2012.
Check out the video below to see the handset in action: