NSTIC Steering Group announced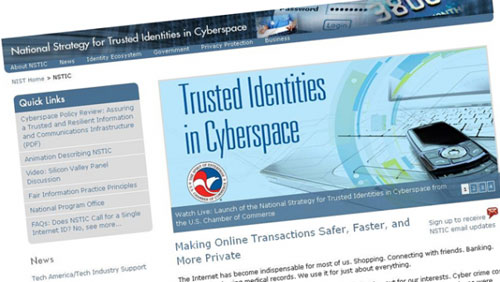 After elections and run-off elections, leaders of the Identity Ecosystem Steering Group have been announced. The National Strategy for Trusted Identities in Cyberspace will be lead by this new group.
Those listed below will join Management Council Vice Chair Jeremy Grant, NSTIC National Program Office director, Management Council Ombudsman Steven Mednick and General Secretary of the Secretariat, Kay Chopard Cohen to form the governing body.
Management Council Chair: Brett McDowell (PayPal)
Plenary Chair: Bob Blakley (Citigroup)
Management Council Delegates
Privacy & Civil Liberties: Aaron Titus, Identity Finder LLC
Usability & Human Factors: Mary Ruddy, Meristic Inc.
Consumer Advocates: Kaliya "Identity Woman" Hamlin, Planetwork
U.S. Federal Government: Deborah Gallagher, GSA
U.S. State, Local, Tribal, and Territorial Government: Dave Burhop, Commonwealth of Virginia – Department of Motor Vehicles
Research, Development, Education & Innovation: Jack Suess, InCommon-Internet2
Identity & Attribute Providers: Kimberly Little, LexisNexis Risk Solutions
Interoperability: Peter Alterman, SAFE-BioPharma Association
Information Technology (IT) Infrastructure: Paul Laurent, Oracle Corporation
Regulated Industries: Mark Coderre, Aetna
Small Business & Entrepreneurs: Jay Unger
Security: Neville Pattinson, Gemalto
Relying Parties: Pete Pouridis, The Neiman Marcus Group
Unaffiliated Individuals: Peter Brown
Delegate at Large: Don Thibeau, Open Identity Exchange, and Ian Glazer, Gartner
All Steering Group members are encouraged to join the various Standing Committees and Working Groups. The groups are already selecting their own leaders, drafting their own charters and organizing their work over the months ahead.
The IDESG has already scheduled its next meeting to take place in the Washington D.C. area on Oct. 29-30. During this meeting, the members will finalize the charter and by-laws, meet with their selected Standing Committees and Working Groups, and continue the work begun in Chicago. More details about this meeting can be found at http://www.idecosystem.org.