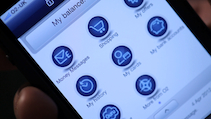 UK mobile operator O2 has announced the launch of its O2 Wallet mobile money service.
O2 Wallet enables users transfer funds up to £500 to any UK mobile phone number, compare the prices of goods via bar code scan, receive coupons and offers, link credit and debit cards to their accounts, and shop online with a prepaid Visa O2 Money Account Card.
Additional functionality will soon enable consumers to use O2 Wallet to purchase mobile airtime and buy train tickets, according to O2.
The O2 Wallet app can be used on nearly all smart phones and iPads, and some tools may even be used on feature phones, such as the funds transfer service "Money Message."
Users can to load money into their O2 Wallet account via debit or credit card, by Money Message, or with cash at more than 30,000 locations including O2 stores, PayPoint and epay retail outlets.
O2 Wallet users also have the option of receiving a physical O2 Money Account Card, which can be used to make contactless purchases at more than 100,000 contactless payment points across the UK.
In its current state, O2 Wallet does not include support for NFC, but the company will integrate the technology in the future, according to market research firm Ovum.
"The O2 mobile wallet service is one of the most comprehensive of its kind to be launched by a European mobile operator," said Eden Zoller, principal analyst at Ovum. "However, a notable omission is the lack of support for NFC, making the service essentially a mobile web and online proposition, although O2 is looking to introduce NFC in the future. "
Check out the full list of features here.