Paris deploys NFC-enabled mailboxes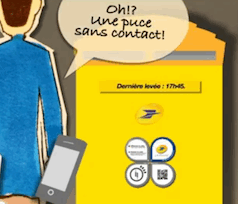 French contactless mobile services provider Connecthings has announced the deployment of NFC-enabled "Smart Mailboxes" in the 4th district of Paris.
The solution uses NFC tags and QR codes to enable smart phones users to receive relevant information directly to their handset, such as time of post collection, nearby stamp vendors, postal codes and directions to the closest post office and its operating hours.
According to Connecthings, the company's Smart Mailbox solution was chosen by La Poste, France's national postal service, over 150 competing solutions at the Lab Postale 2011 competition held last month at La Poste's HQ.
"This year for the third edition, we decided to focus on communicating objects, geolocalized services and general interest that are relevant to our consumers," said Bernard Hauri, La Poste's Director of Innovation and E-services Development.
Connecthings says the smart mailbox tags can also provide a variety of other public information, including maps of the neighborhood, local classified ads and check-in services.