Passing the contactless reader?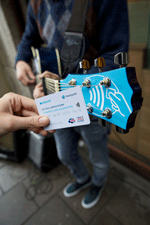 Instead of 'passing the hat' UK street performer takes plastic
Street performers typically keep their guitar case open or have a hat available for passersby to leave donations. The UK term for this is busking and Peter Buffery is taking it to a new level.
Accepting contactless cards only Buffery will entertain crowds on his specially designed guitar that is equipped with contactless technology for listeners to make a donation to charity using cards provided by Barclays and Barclaycard. The contactless card reader was built into the head of the instrument as to not affect the sound. Buffery is a musician based between London and North Devon, studying Music Technology at Kingston University and working on his debut album
Situated outside EAT. in London's Soho Square, Barclays and Barclaycard issued passers-by with pre-paid contactless cards. Each donation of £5 made from the cards through the payment system on the contactless guitar will go towards the goal of £2,500 to be donated to Help a London Child.
While Buffery busked, listeners were able to hold their contactless cards over the head of the unique guitar to make a donation – with no scrabbling in pockets for change required.
The £2,500 raised by the Contactless Busker will fund at least one of Help a London Child's small grants. This could be used to pay for specialized musical instruments for young people with disabilities, music workshops for less advantaged teenagers or even transport costs for young careers allowing them to attend a concert and take a break from their everyday responsibilities.