Pay By Touch Raises More Than $60 Million in New Financing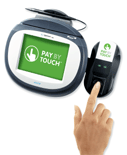 $60 million this week, $190 million in the last three months, and a collective $320 million raised by Pay By Touch since September. Nice.
In their latest round of new financing, Pay By Touch has continued their ferocious pace of fundraising with an eye on continued product development and strategic acquisition. The San Francisco-based provider of biometric payment solutions has acquired 5 payment and technology firms since September.
---
Thursday January 26, 8:00 am ET
Additional Funds Continue to Fuel Company's Growth
SAN FRANCISCO, Jan. 26 /PRNewswire/ – Pay By Touch(TM), the leading provider of biometric authentication, loyalty, membership and payment solutions, today announced it has closed more than $60 million in new financing through its sale of Series C Preferred Shares. The company continues to prove its business model to the financial community, raising more than $190 million during the past three months.
Participants in the financing include hedge funds Plainfield Asset Management and Scout Capital, plus private investors such as Quince Associates and Global Trust Partners, among others. As part of the financing, the company's prior round of Convertible Promissory Notes was converted to the new Series C Preferred Shares.
"The $60 million in new investment is particularly motivating because it includes such a high level of repeat investment," said John Rogers, founder, chairman, and CEO of Pay By Touch, noting that several previous shareholders increased their holdings in the company. "Pay By Touch continues to pursue an innovative capital structure, which has appealed to hedge funds and high net worth individuals. This new capital inflow is fueling our explosive growth in the biometric payment, loyalty, and processing sectors."
Pay By Touch has been active in using its previous round of financing to spur significant expansion. Following the company's September round of financing, which raised a cumulative total of $130 million, Pay By Touch completed the acquisitions of CardSystems Solutions, Inc., BioPay, LLC, Capture Resource, 7th Street Software, and Convena, LLC.
The current funding allows Pay By Touch to continue to grow its suite of patented, secure biometric products and services while pursuing additional complementary acquisitions to accelerate growth into markets such as health care, Internet, petroleum, convenience stores, and quick service restaurants.