'Pill' monitors temperature in real time
RFID tag is swallowed to enable tracking of health and position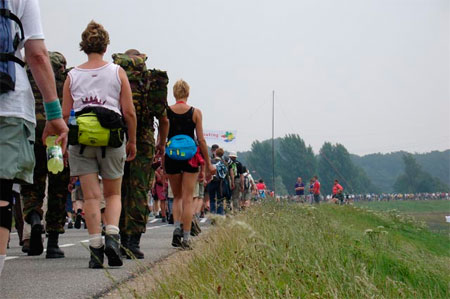 Two-years ago at the Four Days Marches of Nijmegen in the Netherlands, an event where 40,000 participants walk 20 to 30 miles a day, two marchers died because of the warm weather during the event. Sadly, it's become increasingly common for individuals participating in sporting events to succumb to elevated temperatures.
In an effort to monitor the body temperature of participants at this year's march, the Radboud University of the Nijmegen teamed with Bedford, Mass.-based Progressive Software Corp. Volunteers swallowed a pill that included an RFID tag and thermometer.
The pill sent a signal to a mobile phone in the volunteer's backpack every ten seconds, which then communicated via Bluetooth with a wireless device that transmitted the body temperature reader, the volunteer's location, and his phone number to the monitoring center. After a certain amount of time the pill works its way out of the individual's system.
Data is processed and analyzed in real time and can be used to take action if the volunteer's temperature gets too high, alerting an onsite medical team to take action if needed. The marcher's exact location could be found using Google maps. Monitors could also send text messages to participants telling them to rehydrate if they notice anything out of the ordinary, says Martijn Bakkers, branch manager of health care at Progressive Software.
One hundred and ten participants swallowed the pill, but only 10 were monitored in real time because of the expense of the monitoring device, Bakker says. The 10 people chosen for this exercise were all military personnel.
The use of the technology during the march was considered a success, Bakkers adds. The temperatures were mild averaging 70 degrees Fahrenheit during the four days. None of the participants suffered any problems during the walk, but there were still some interesting takeaways.
While temps were cool, there was some rain. For the participants who had raincoats their temperature increased half a degree Celsius, while for those participants who didn't have raincoats their temperatures dropped half a degree. They could also tell when participants were resting because the body temp typically dropped during that time.
Bakkers says the company is discussing using the technology in other sports. Marathons and triathlons would be one good fit, he says. They are also considering the technology for Formula One race car drivers. "We know a small percentage of Formula One Race car drivers will decrease the concentration they have on the car if they are overheated," he says.