Prazza, the RFID-equipped golf ball finding system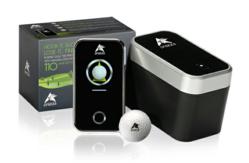 Dutch firm Prazza Group has launched the Prazza Golf Ball Finder system, designed to free the sport of one of its most annoying and time-consuming problems: the lost ball.
The Prazza Golf Ball comes with an RFID chip embedded in the inner core and is activated when the golfer hits a shot. The handheld Prazza Golf Ball Finder has the ability to locate the ball from a distance of up to 110 yards away, through the rough and in water up to eight inches deep.
Roughly the same size as a smart phone, the Golf Ball Finder uses active RFID technology and beeps with increasing frequency as the golfer approaches the ball. A visual arrow is also displayer pointing the golfer in the right direction.
Recently, Prazza has negotiated a global product launch with KLM Airlines. Starting in September, the Prazza Golf Ball Finder will be available for a limited time as a business class exclusive on all KLM flights worldwide.
For a demonstration of Prazza in action, visit here.