Proxama launches 'X-Men' NFC poster campaign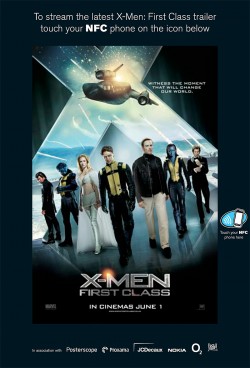 Proxama has announced the launch of an NFC poster campaign in London to support the release of 20th Century Fox's new movie 'X-Men First Class.'
Each new X-Men poster contains an embedded chip that enables NFC phone users to access an exclusive movie trailer and a link to the X-Men film's Facebook page with a simple tap of their phone.
According to Proxama, this marks the first time that NFC has been used in a public marketing campaign.
The X-Men poster is the first product of Proxama and Nokia's announced collaboration on NFC phone apps. The partners are also working with outdoor media specialist Posterscope, media owner JCDecaux and network operator O2 to roll out the campaign.
In addition to providing NFC phone users with information and media, the posters also allow retailers and advertisers to collect data about consumers, such as consumer location data and shopping history, via Proxama's TagManager, which in turn allows for more targeted advertising.
James Davies, Director at Hyperspace, Posterscope's innovation and digital division, comments: "What is so exciting about this layer of interactivity is its simplicity and the size of the opportunity for generating scale. There are 130,000 commercially available poster sites that can be instantly enabled. For the client the cost of each NFC chip is extremely low and the consumer receives instant fulfillment. The potential application of this technology is immense."