Raisonance unveils portable test tool for NFC, smart card systems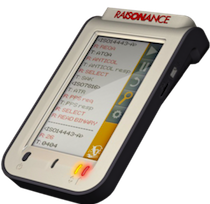 Raisonance, a smart card test tool provider based in France, has developed a new
hand-held communication analyzer for smart card and NFC systems.
Dubbed "NomadLAB," the device is designed to enable system designers and software developers to quickly identify problems occurring in smart card or NFC systems, either in the lab or in the field.
According to Raisonance, NomadLAB provides communications analysis between a range of products, including ISO 14443 13.56 MHz contactless smart cards and readers, ISO 7816 contact smart cards, and USIM cards and contactless front end components for mobile phones.
The NomadLAB features a rechargeable battery, 4.3″ color touchscreen, and is fully compatible with other Raisonance test software and laboratory class platforms like ContactLAB and ProxiSPY.
The device, which was previewed at Cartes 2011 in Paris, will hit the market in the first quarter of 2012.