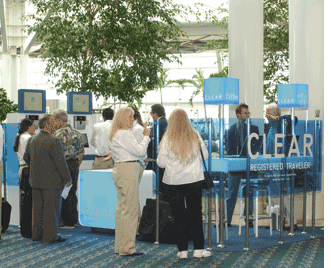 Clear registration halted after laptop stolen; Brill says traveler may not FLO
The Transportation Security Administration halted Clear registration after a laptop containing personal information for 33,000 customers was stolen from a locked office at San Francisco International Airport, according to an Orlando Sentinel report.
Registration has been halted until encryption software is installed on all computers and the customers whose information was stolen were notified of the theft.
The information on the stolen laptop included applicant names, addresses and birth dates. The computer also contained driver license numbers, passport numbers and alien registration card numbers for but no credit card information, Social Security numbers or biometric information. The company said two levels of password protection secured the information.
Clear is also having some issues in the Washington area. A Washington Post report says Clear CEO Steve Brill is not guaranteeing that FLO members would be able to use the registered traveler gates at Reagan National and Dulles International airports.
FLO announced that it had partnered with the Washington Redskins to offer expedited entry into FedExField as well as touting the registered traveler program at the Washington-area airports.
Clear runs the registered traveler gates at Regan and Dulles airports. Brill said it isn't fair that FLO members have been able to use the company's lanes, which are two-thirds of the company's operating costs, free of charge, according to the Post article.
This is most likely the first volley in what is going to be a competition that is just heating up. The TSA has lifted the cap that limited the fast lanes to 20 airports and eliminating the $28 government background check. The TSA said registered traveler operators, like FLO and Clear, must remain open to all operators for the next 12 months. After that it's anybody's game.
Brill told the Post that it might block FLO users if they don't start paying for its members to use the Clear lanes. The company runs the lanes at 17 of the 19 airports. Luke Thomas, executive vice president of FLO, said if that happens Clear members won't be able to use the FLO lanes at Reno-Tahoe International Airport.
---
To check out the Re:ID Podcast with Verified Identity Pass, click here.