Registered traveler program remains 'Clear' after acquisition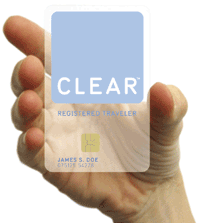 The registered traveler program may be getting another chance with Alclear LLC buying the assets of the Clear program and intends to re-launch at airports in September, company officials say.
Verified Identity Pass had deployed its Clear program at 20 airports around the country when it was shut down in June 2009 with virtually no notice. There were two other vendors also operating registered traveler programs that ceased operations shortly thereafter.
The idea of using biometrics and smart cards for secure, expedited access through airport security came about after the 2001 terrorist attacks. Clear emerged in 2005 and had attracted a reported 250,000 customers when it folded last year. The idea remains popular with some members of congress. A bill passed late last year by the U.S. House of Representatives that is pending in the Senate would require the Transportation Security Administration to put the program in place.
Consumers are also interested in using biometrics at airports, according to the Unisys Security Index. Some 57% of travelers would be willing to submit biometric data for enhanced security and convenience. "The majority of people understand the implicit bargain in giving up their information," says Mark Cohen, vice president of enterprise security at Unisys. "Our impression is that there's a reasonable degree of confidence that the information will be respected and protected."
Several potential buyers competed for the assets of Clear but Algood Holdings won out with a bid around $6 million. The new company, Alclear, will use the Clear brand, says Caryn Seidman Becker, CEO at Alclear and founder of Arience Capital Management. "Same brand, same logo, different company," she says.
Former customers will begin receiving notification about the program in May. The new company intends to honor any time remaining on customer's previous contracts when it begins operations again. "If you had six months left you will have six months for free under the new Clear," says Seidman Becker.
The program will continue to use a smart card along with fingerprint as the primary biometric and iris as a backup. Alclear is also looking at opportunities to make the credential interoperable with government IDs, such as the Defense Department's Common Access Card and other FIPS 201 credentials.
Alclear would like the credential to be accepted at more places than just airports, but the focus is on getting back up and running there first, says Seidman Becker. "The more usage you can drive from the card the better off the customer is," she says.
The company is working on reestablishing relationships with the airports and creating a partnership with the TSA. One of he criticism of the program previously was that registered traveler wasn't a security program but a front of the line program. Alclear is focused on convenience for its customers but it also wants to increase security for the airports, Seidman Becker says. "Our value is the secure ID and giving people predictability at the airport," she adds.
---
The evolution of registered traveler
November 2001
The Aviation and Transportation Security Act is signed into law requiring federal screening of passengers and calls for establishing rules for a trusted traveler program, later to become registered traveler, for passenger who undergo a prescreening for expedited access through security.
November 2002
The U.S. Government Accountability Office issues a report on a potential registered traveler program stating that it "found support for this program among many stakeholders, GAO also found concerns that such a program could create new aviation security vulnerabilities."
June 2003
TSA, United Airlines and U.S. Customs pilot a registered traveler program between Washington's Dulles International Airport and London's Heathrow Airport that uses fingerprints and facial recognition.
June 2004
The TSA taps Unisys Corp and EDS Corp to pilot registered traveler at Houston, Minneapolis, Los Angeles Boston and Washington airports.
June 2005
During a U.S. House of Representatives hearing, airline executives call in question the value of the registered traveler program with one congressman calling it "lame."
August 2005
EDS and Unisys make program interoperable so travelers registered at one airport can use it at the other.
September 2005
Steve Brill, through new company Verified Identity Pass, launches the Clear program at Orlando International Airport with more than 8,000 travelers enrolled.
November 2006
Vigilant Solution launches registered traveler program based out of Jacksonville International airport in Florida.
January 2007
FLO Corp., a subsidiary of SAFLINK, launches to develop registered traveler program.
October 2007
FLO buys Unisys's registered traveler assets.
July 2008
The TSA stops requiring background checks for the registered traveler program, effectively, many contend, making it a "front of the line" program and not a security program.
June 2009
Clear shuts down causing competitors, FLO and Vigilant Solutions, to also cease operations.
December 2009
Preparing for a comeback, FLO announces an agreement with Cogent Systems to leverage Cogent's national network of 1,000 biometric enrollment locations for frequent travelers to enroll in the TSA-sponsored RT program.
September 2010
Clear re-emerges under new ownership.