Report: Card market tops $17 billion, 30 billion units in 2011
The global card market reached $17 billion in 2011, jumping almost 14% from 2010, according to the 2011 International Card Manufacturers Association Global Card Market Statistics Report.
Higher value chip-based cards used in mobile phones and other electronic transactions as well as expanded production in the Asia-Pacific region led market growth as more than 30 billion cards were manufactured worldwide in 2011.
The report points out, however, that the global card market will experience slower growth through 2015. Traditional magnetic cards will continue to be replaced by chip cards while smart phone apps and NFC technology will impact growth of card markets beyond 2015.
Other key highlights of the report include:
The volume of non-technology cards–magnetic stripe cards, bar coded cards and plain cards–exceeded the number of smart cards by 36%. The dollar value, however, tipped tremendously in favor of the smaller segment as smart cards accounted for 87% of the $17 billion dollar card market.
In sheer volume of cards produced, low-end Telephone Scratch-off cards led the market with 6.8 billion cards produced.
Mobile phone SIM cards were second in volume with 4.6 billion units but were by far the dominant sector in terms of dollar value at $7.3 billion.
While financial cards trailed only slightly behind SIM cards in terms of volume, the segment was just half the size in terms of dollar value at $3.6 billion.
The gap between the volume of traditional and chip-based cards manufactured was smallest in the Asia-Pacific region (51.7% and 48.3%) and Europe (54.2% and 45.8%).
Asia-Pacific leads the regions as the largest producer of cards, with more than 10 billion cards manufactured in 2011. North America was second with 8.3 billion units manufactured. Europe is in the third position with 4.9 billion units manufactured and Middle East Africa in fourth with 4.2 billion cards. Latin America stayed close to last year's figures at 1.9 billion units manufactured.
---
Number of cards manufactured in North america by market segment, 2011 (millions)
North american Total 8.63 Billion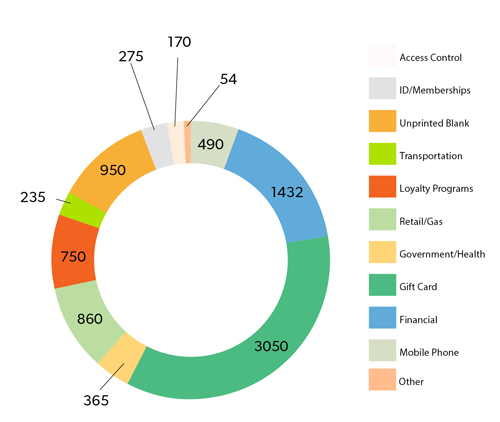 ---
Number of cards manufactured by region, 2011 (billions)
Global Total 30.5 Billion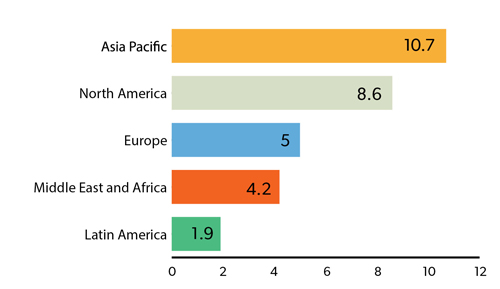 Source: 2011 Global Market Statistics Report, ICMA
The report is available to ICMA members. Non-members can purchase the report for $1500. Visit www.icma.com for details.