RFID technology enables prisons to track inmates in real-time

Prisons are becoming safer places thanks to a new RFID based tracking program. More than 10 years in the making, one such system has its roots in technology originally developed by Motorola for the U.S. Department of Defense. Now licensed by Technology Systems International, the TSI PRISM solution grants wardens ubiquitous, mandatory and real time tracking of all inmates and personnel in a prison complex.
TSI PRISM is made up of six component parts-two types of personal transmitters and five infrastructure components. The personal transmitters include a wristwatch worn by inmates and a pager-like device for prison officers and staff. The five infrastructure components include indoor and outdoor antennas, calibration transmitters, collection nodes, a central server, and client terminals.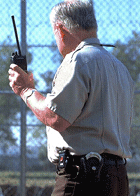 TSI, a division of Alanco Technologies in Scottsdale, Arizona, rolled out its first system at the 350-bed Calipatria State Prison in California in 2000.This installation was followed by the J.W. Maxie Maximum Security Youth Institution in Michigan and TSI's largest installation, Logan Correctional Institution, home to more than 2000 beds. Most recently, the Ohio Department of Rehabilitation and Correction authorized a pilot at the Ross Correctional Facility in Ohio.
Transmitters worn by staff and inmates emit RF signals at two-second intervals that identify each inmate and staff member. These signals are received by multiple active antennas which route them via coaxial cable to collector nodes. The information is processed, stamped with time of arrival data, and forwarded to the central server. The server's application software uses the data to compute the position of the transmitter. It also stores the information, creates alarms for exception conditions, and provides all this information to the client terminals.

The batteries in the wristbands and belt units last about a year. Notification is sent to the central computer when the battery is low. The rubberized wristbands have a metal wire running through them that can transmit a signal for distances up to one-half mile. With overlapping antenna placement, each signal from a wristband is picked up by three to 12 antennas.
"Both versions transmit a unique RFID signal, unique so it can be identified to the specific wearer," said TSI's president, Greg Oester. "The inmate units have several levels. They also can't take it off or damage it without a supervising computer knowing about it," he added. "The officer unit has a duress button. If he's in danger, he can press the duress button and there is instant notification in the control area of where he is and the names of 20 inmates close to him."
The radio signals are collected by an array of antennas throughout the prison. For example, Logan has more than 600 nine-inch by nine-inch antennas throughout the prison. Mr. Oester said, "Those signals are processed and stamped as to time of arrival so we know by the nano second when the signal was received. All of this is processed thru our proprietary software."

Before success, there were setbacks. "In the early stages of development, up to the introduction of version 5 (which has worked flawlessly), versions 1-4 were dismal failures," said Mr. Oester. "The wrist units malfunctioned and there were countless false alarms."
The amount of information gathered and the controls put in place vary from prison to prison. For example: "We don't want inmates within certain feet of the fence or rival gang members within certain feet of each other," said Mr. Oester. If there are any violations, "the screen in the control room will flash and turn red and immediate action can be taken. If it's an inmate who approached a restricted area or we have two gang members who have gotten close to each other, we want an instantaneous alert." All of the data movements are captured and archived. "We can go back yesterday, or two weeks ago, and determine where inmates were in the prison. It becomes a powerful investigative tool," he said.
More importantly, TSI PRISM "lifts the veil of secrecy that prisons operate under," added Mr. Oester. "For example, at Calipatria soon after TSI PRISM was installed, an inmate was found stabbed in his bunk. He didn't know who had done it and no one else knew either. We went into the databank and determined in 20 minutes who the assailant was and in 30 minutes we had a confession. This has happened over and over. It has reduced inmate violence by 60%."
The system is hard to circumvent. One inmate at Calipatria thought the wristband was heat activated so he cut it off and wrapped it around a cup of coffee, recalled Mr. Oester. But the moment he cut the band, the prison was notified. The prisoner was apprehended a short distance from the prison.
"Escapes are very costly; you have to call in the highway patrol, and the sheriff, but since we've installed TSI PRISM at Calipatria, there haven't been any. Before that, the prison was averaging 1.5 walkaways a year."
The system works to prevent incidental misbehavior as well, "We've had reports from California that have concluded that inmate behavior has been modified. They are fully aware they cannot get away with prohibited activities," said Mr. Oester. "It's just not worth it to get into a fight over minor disagreements." He continued, "We have examples of where the staff has been relieved of the more mundane tasks. We do electronic medical distribution so there's a report on all the meds and diets an inmate receives."
When first introduced there was some suspicion among staff "that it might be used to see who might have taken a longer lunch. But the prisons have agreed not to use the system for minor disciplinary actions" said Mr. Oester. Other than that, "we have had very strong officer support in California and Illinois and we've heard comments that (guards) feel much safer."
Another TSI PRISM benefit is its ability to reduce or eliminate sexual abuse at prisons or cut down on false allegations of such abuse, he said. It will also help states comply with the Prison Rape Elimination Act of 2003, a federal law designed to reduce prison rapes. "Our system is being looked at by seven states as the primary component of a rape elimination program," said Mr. Oester.
And, of course, if a prisoner falsely accuses a guard of abuse, a simple check of the database will verify if the guard was in the vicinity. "It's also a morale builder because we don't think that most officers want to work with others engaged in [inappropriate] behavior," said Mr. Oester.
Alanco has spent more than $25 million over a seven-year span developing the system and, according to the company, there is no competition. The company projects TSI PRISM will do $8 to $10 million in sales over the next eight months. Among potential customers are the 50 state prison agencies, the federal government and three large private prison operators. On August 23rd of 2004, Alanco announced new technology would allow it to reduce installation costs by more than 25%. It seems clear these systems will be spotted throughout the United States as these systems gain wide acceptance and an affordable price tag.
This article was originally printed in ContactlessNews' sister publication, RFIDNews.