RFID's new Gen 2 communicates better, reads quicker, and steps up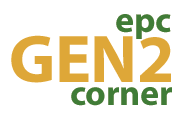 In this first-ever installment of the RFIDNews Gen2 Corner, we investigate the benefits Gen 2 offers over its predecessor. In the future, this recurring corner will delve into features and concepts such as Q-Algorithm, Persistence, and Dense Reader Mode as well as applications, products, and more. Stay tuned…
By Marisa Torrieri, Contributing Editor

Like many technologies, the promise of RFID seemed to be more pipe dream than reality. For years, challenges such as frequent interference and missed reads happened so often that the technology destined to follow barcodes hadn't measured up to the hype. But in 2006 that's going to change, say both industry experts and manufacturers of RFID products.
Thanks to some of the new readers, tags, chips and antennas entering the market, the next generation of the technology is vastly superior. This might be the year RFID fulfills the promises of greater accuracy, faster speed and improved operations in warehouses and across supply chains.
"Generation 2 works much better than Generation 1," says Marlin Mickle, the director of the RFID Center of Excellence at the University of Pittsburgh. Mickle, who doubles as a professor at the university, heads a team of researchers and testers who work with RFID product developers who want to improve a product's characteristics (i.e., a reader's ability to pick up a tag in a difficult environment). "The protocol, the exchange between reader and tag is better, and they have error correcting codes, which makes them easier to verify from the reader's standpoint."
But whenever a good thing comes along, so do a host of manufacturers with a host of new products – and tech stalwarts from Symbol to Alien Technology to Intermec are peddling Gen 2 product suites. While using the same Gen 2 specification, every RFID product on the market boasts different advantages.
"By the end of 2006, nearly everybody will be using Gen 2," says Alan Melling, director of business development at Symbol, which manufacturers RFID readers, antenna and tags.
What makes the Gen 2 RFID different
"One of the drivers behind Gen 2 is to get everybody to produce the same things," says Melling.
Unlike the first generation of RFID technology, for which two standards (Class 0 and Class 1) existed, Generation 2 is one standard, or "flavor," he says.
On Dec. 14, 2004, the EPCglobal Generation 2 RFID standard, with input from more than 60 companies, was ratified and approved by the EPC Global Committee, the not-for-profit standards organization representing the supply chain industry. Since then, manufacturers have brewed up a suite of products based on that specification.
The good news is that Gen 2 RFID technology is a huge improvement in many ways, offering a better read range and performance in crowded environments, for starters.
This is in part because of the physical interface. With Generation 1 RFID, there were some problems with read accuracy. With Gen 2 the encoding in the bits that identify tags has changed, enabling devices to more accurately read the tag.
Another advantage, from the business side, is data storage. The first generation had either 64 or 96 bits of information; Gen 2 RFID starts at 96 bits, says a spokesman from EPCglobal.
Because Gen 2 can store additional bits of data, more information about each product can be made available – a reader picks up more complete information about a tagged container, including the differences between items, containers, and pallets, Mickle says.
According to Intermec's white paper, Will Your EPC Gen2 System be up to Standard?, Gen 2 does not specify a minimum speed as this depends on factors such as power output, tag density, and more. The white paper notes, however, that:
"Gen 2 technical specs should enable readers to perform more than 1,500 tag readings per minute in North America and 600 reads per minute in Europe, which has more power and bandwidth restrictions. These speeds support the ability to identify objects on conveyor belts moving 650 feet per minute, and those being carried by forklifts that pass through reader portals at eight miles per hour. The write rate, which is highly dependent on the amount of data written, is about 10 tags per second and is fairly consistent worldwide."
Bombarded by product pitches? Take a step back to the basics
Before you begin testing different products on the market, Mickle suggests asking yourself some basic questions. How are you going to use the RFID products? In what environment will they be used? Will they be used in an open space, such as a warehouse, or an environment with a lot of metal in it? What's the maximum distance the reader needs to read?
And think big, recommends Melling, explaining that companies simply looking to comply with a mass-market retailer's mandate (such as Wal-Mart's) often overlook the advantages of the technology. Unlike bar codes, RFID can provide access to data you never had prior, such as the fact that a product is sitting on the wrong shelf – not being sold – for a long period of time.
"Companies that only focus on compliance only read the tag as it is leaving their shipping dock," says Melling. "By applying and reading the same tag earlier, they could use RFID to improve their own internal processes at minimal incremental cost."
---
Additional resources:
For more information on the Gen 2 specification, check out http://www.epcglobalinc.org/.
For a lengthier description on the advantages of Gen 2 RFID, check out the White Paper from Intermec ("Will your EPC Gen 2 System Be Up to Standard?") online.