RIM's new Music Gateway streams music via NFC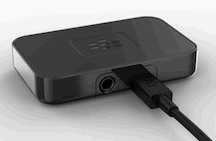 Research In Motion has unveiled a new device called the BlackBerry Music Gateway that can stream music wirelessly from an NFC-enabled BlackBerry handset.
Slated for release in June, the $50 device can be hooked up to a home stereo or car audio system via auxiliary input. To stream music, the user simply taps his or her NFC-enabled BlackBerry Bold 9790 or Curve 9360/9380 handset against the Music Gateway to establish a connection.
The Music Gateway can also connect with any Bluetooth-enabled device, such as the BlackBerry PlayBook tablet, the iPhone and even Android handsets.
According to PC World, the device will hold its connection up to 30 feet away from the user, although sound quality is compromised at greater distances.
Read more here.