RSA releases new one-time password generator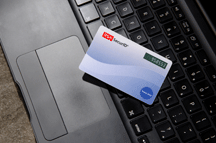 RSA has announced the RSA SecurID 1100 Display Card. This one-time password authenticator is in a flexible card form-factor designed to help financial institutions and their customers secure online accounts and transactions with two-factor authentication.
With the push of a button, a user can generates a one-time password on the card's display providing organizations with two-factor authentication capabilities designed to protect consumers' online financial transactions – including account access, bill pay and money transfers. This card form factor is new for RSA, which has typically used key fob form factors in the past.