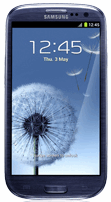 Samsung Electronics has unveiled its third generation NFC-enabled Galaxy S handset, the Galaxy S III.
Powered by Android 4.0 Ice Cream Sandwich, the Galaxy S III features a 4.8 inch HD Super AMOLED display, 8MP camera, 1.4 Ghz quad-core chip and 16 GB of internal memory. The device also features an NFC chip for making mobile payments and peer-to-peer data transfers via "S Beam," a supped up version of Android Beam.
According to Samsung, S Beam enables a 1GB movie file to be shared within three minutes and a 10MB music file within two seconds by simply touching another Galaxy S III phone, even without a Wi-Fi or cell signal.
Billed as being "designed for humans and inspired by nature," the Galaxy S III also debuts "S Voice," Samsung's new voice command user interface. According to Samsung, S Voice enables information search and basic device-user communication, like telling your phone to play a certain song, send a text message, take a photo or even ordering it to "snooze" when the alarm goes off.
The phone is set to debut in Europe on May 29 before heading to the U.S. this summer.
Check out the full list of features here.