Samsung Galaxy S III speeds past 10 million sales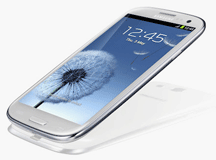 Samsung has confirmed that more than 10 million units of its flagship NFC-enabled Galaxy S III handset have been sold since its release two months ago, reports The Telegraph.
This puts the Galaxy S III on track surpass its predecessor, the Galaxy S II, as the bestselling Android device – and in record time. According to The Telegraph, the S II took five months to pass the 10 million unit barrier.
The milestone also gives the S III the distinction of being the iPhone's main challenger in the smart phone market. For perspective, the iPhone 4S sold four million units in its first weekend alone, according to The Telegraph.
The S III runs on Android 4.0 Ice Cream Sandwich and features a 4.8 inch HD Super AMOLED display, 1.4 Ghz quad-core processor and 16 GB of internal memory in addition to embedded NFC for making contactless mobile payments and peer-to-peer data transfers via S Beam. The S III also happens to be the official phone of the London Olympics.
Read more here.