Samsung unveils two new NFC-enabled Galaxy handests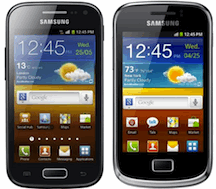 Samsung has announced two new NFC-enabled additions to the Galaxy smartphone line: the Galaxy Ace 2 and the Galaxy mini 2.
Slated for an April launch in the UK, the Ace 2 sports a 3.8-inch WVGA screen, 800MHz processor, HSDPA 14.4 connectivity, GPS/GLONASS, 1,500mAh battery and 4GB of internal storage, with NFC connectivity listed as "optional" in the specs.
The Galaxy mini 2, which also includes the option for NFC, features a 3.27′ HVGA screen, 11.9mm profile, HSDPA 7.2Mbps connectivity, 800MHz processor and a 1,300mAh battery. According to Samsung, the handset will launch in France in March.
Both handsets will ship with Android 2.3 Gingerbread.
Check out the full specs here.