The technical basics of Near Field Communications
Understanding why NFC is more than contactless, Bluetooth, or RFID …


Certainly among the hottest of topics in the ID world today is Near Field Communication (NFC), an exciting and relatively new technology. While it has become a household term in most identification-centric circles, a significant gap in understanding of its technical operations and capabilities remains. Ask a number of people to define NFC, and you are likely to get responses like: 'It's a way to make payments with your mobile phone' … 'It's contactless but it can go in a other devices' … 'Its like Bluetooth but it is in a card." While each of these descriptions are accurate to a degree, they fail to capture the true understanding of what sets NFC apart from other technologies.
NFC's industry association, the NFC Forum, defines the technology as "a standards-based, short-range (a few centimeters) wireless connectivity technology that enables simple and safe two-way interactions among electronic devices, allowing consumers to perform contactless transactions, access digital content and connect electronic devices with a single touch."
Put another way, it is a standard that enables contactless, bi-directional communication between devices. These devices can be NFC-equipped mobile phones, computers, consumer electronics, cards, tags, signs, posters, washing machines … virtually anything that can be tagged.
NFC standards are the result of work conducted by Ecma International, a global industry association dedicated to the standardization of technology and consumer electronics. The NFC effort was initiated within Ecma by the creators of the technology, Sony and Philips (now NXP). The standard created by Ecma was titled ECMA-340 and it was subsequently submitted to the International Organization for Standardization (ISO) for consideration. ISO adopted it as ISO/IEC 18092 in October 2003.
ISO/IEC 18092 details the modulation, coding, data transfer speeds, anti-collision, data exchange, and other technical operations that enable standardized operation across NFC devices.
NFC is closely related and complementary to other contactless technologies with which it shares the 13.56 MHz frequency band. Specifically, the popular ISO 14443 standard is a key building block for much of the Near Field operations. NFC is compatible with the ISO 14443 Type A and B standards, NXP's Mifare, and Sony's FeliCa technologies.
Initiators and targets
NFC splits the components of a communication session into initiators and targets. The initiator is the device that begins and manages the communication and exchange of data. The target responds to requests from the initiator. This is where one of the key qualities of NFC comes to light: devices can act as either an initiator or a target.
In traditional RF systems, a device is either an initiator (called a reader or interrogator) or a target (called a card, token, or transponder).
Establishing protocols for devices to act in either role enables bi-directional establishment of communication and enables devices to function as what is commonly referred to as 'either the card or the reader.'
The significance of this dual-role capability is best explained with an example. Imagine a restaurant scenario where a diner and waiter are settling the check. The diner holds out his contactless card and the waiter simply touches it with his NFC-equipped device (e.g. PDA, point of sale add-on, mobile phone) that is functioning as a 'reader.' The waiter captures the payment info and the customer verifies it on the device and adds a gratuity. The waiter walks back to the main counter and touches the device to the central point of sale (POS) reader. The waiter's device then switches to 'card' mode as the central POS reads the payment information for processing.
The same device, the waiter's handheld, has functioned as both a contactless reader and a contactless token to complete the transaction. This is one of the elegant features of NFC that open doors for functionality never before possible.
As the NFC Forum describes it, "an NFC-enabled device can operate in reader/writer and peer-to-peer mode, and may operate in card emulation mode."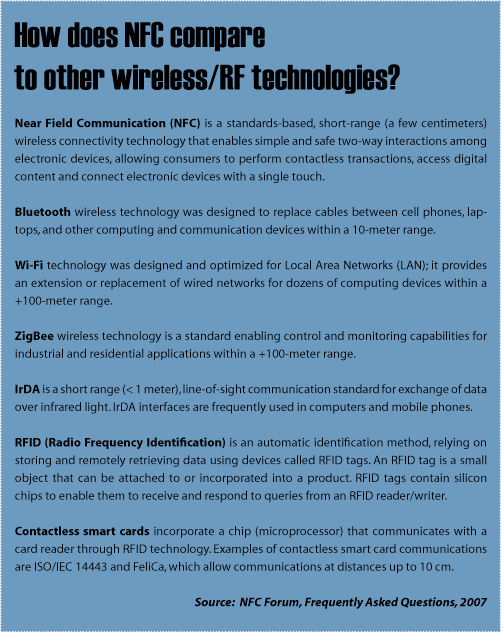 Passive and active NFC modes
Another important feature of NFC is that it defines two distinct modes of communication. In the active mode, both devices are responsible for creating the RF field to carry data. In the passive mode, only the initiating device creates the RF field. This enables battery-powered devices, such as mobile phones, to avoid power consumption at the RF level during periods of inactivity.
The benefit of ease of use
According to Ecma, the short-range nature of NFC is optimal for its application. Because NFC devices must be no more than 20 centimeters apart for operation (most agree actual distance is smaller in operation), the "touch" metaphor applies. This means that devices must, in essence, touch each other to establish communication. Ecma notes the following benefits:
"Devices can rely on the protocol to be inherently secured since the devices must be placed very close to each other. It is easy to control whether the two devices communicate by simply placing them next to each other or keeping them apart."
"The procedure of establishing the protocol is inherently familiar to people: you want something to communicate–touch it. This allows for the establishment of the network connection between the devices to be completely automated and happen in a transparent manner. "
Initial applications
NFC developer Innovision cites peer-to-peer, payment and ticketing, and service initiation as the three initial applications that will drive NFC's growth. It describes these applications as follows:
In peer-to-peer applications, NFC can set up a separate wireless connection via Bluetooth or WiFi. Typical peer-to-peer applications are printing photos straight from a digital camera, establishing an Internet or network connection, transferring files between devices, or sharing electronic business cards.
Initially, NFC-enabled devices are likely to be used for low-fraud, limited-value payment situations, such as quick-serve restaurants, kiosks, vending machines and parking meters.
Service initiation applications use NFC to transfer a small amount of information to the NFC device (e.g. text, a web address (URL), phone number). Smart posters direct the device to a web site for info, to book tickets, or access video or audio files without the need to key anything into the phone to open the browser or input the URL.