Singapore's Sentosa Island goes contactless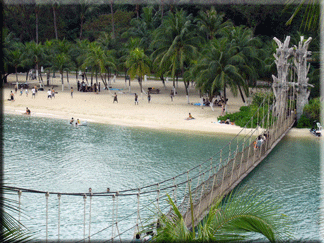 Contactless technology from INSIDE is being used by an island resort in Singapore to improve the customer experience. Sentosa Island will use thermal tickets and cards with PicoPass contactless chips to manage admissions and purchases at various outlets across the island.
INSIDE CONTACTLESS TO SUPPLY PICOPASS™ SMART TICKETS & SMARTCARDS FOR SENTOSA RESORT
Aix en Provence, France, August 31th 2006 – INSIDE Contactless, the leading edge provider of contactless semiconductor chips, today announced it has been chosen, together with packaging partner – China Global Intelligence, to supply 5 million thermal printed tickets and smartcards using its low cost dual standard memory chip, PicoPass™, to Sentosa, Singapore's Resort Island. These tickets and smartcards will be used for admissions and purchases at the various attractions, retail, and food & beverage outlets on the island.
Since 2002, INSIDE has deployed millions of PicoPass™ contactless memory chips for applications in Access Control, Transport, Payment, and ID throughout Asia. The dual protocol support of PicoPass™ offers greater flexibility for applications requiring proximity distance communications using ISO 14443B or extended communications using ISO 15693.
The Picopass™ chip for the Sentosa tickets comes with 2Kbits memory, 4 times greater than the 512 bits memory specified for the tender, providing the Sentosa greater flexibility for data storage for the card applications.
"In providing a memorable experience to our guests, it is imperative for us to understand their needs and preferences." said Ko Eng Wee, General Manager (Sentosa Leisure) of Sentosa Leisure Group. "With increasing guest traffic to Sentosa, this smart ticket provides greater convenience for our guests and enables us to most efficiently manage our resources."
"INSIDE is pleased to continue our success of supplying PicoPass™ contactless chips for Sentosa's ticket and card applications in Singapore." INSIDE's Executive Vice President and General Manager for Asia Pacific Dennis Khoo added "Sentosa is giving the tourism industry a boost by building an Integrated Resort, which will have all kinds of amenities to attract millions of tourists and families. INSIDE is proud to be part of this success story".
About INSIDE Contactless:
Headquartered in France with a global presence in China, Singapore, Poland and the USA, INSIDE Contactless is a leading fabless semiconductor provider, delivering the most flexible, innovative, cost-effective, and trusted platform for contactless applications including bank card payments and Near Field Communications (NFC). INSIDE is involved in numerous industry initiatives, including the NFC Forum, which is driving the standardization of NFC; as well as the IN-CLUB Limited, which is a non-profit association that brings together companies in the Payment, ID, Mass Transit and Mobile application markets, to collaborate on contactless applications and initiatives. For more information on INSIDE, please visit: www.insidecontactless.com.
Near Field Communications News and Insight
Explore more developments dealing with the implementation of Near Field Communications, a short-range wireless technology that promises to revolutionize contactless identification, payment, access, and more.
Click to visit NFCNews
.