Sirit releases 3.0 Firmware upgrade for IN510 reader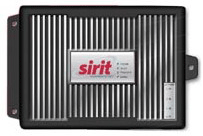 Sirit has announced the release of the 3.0 Firmware upgrade for its INfinity 510 (IN510) UHF reader.
The upgrade introduces "Stray Tag Elimination" technology (STE), which allows the reader to differentiate between tags moving through a portal or an exit separately from stationary tags in the vicinity of the portal.
"This feature is going to solve a lot of problems for our customers," said Dr. Bruce Roesner, Sirit's Chief Technology Officer. "The issue of stray tags has been a very expensive problem for many users of RFID."
The upgrade also boosts the IN510's peak throughput to 1,150 tags per second.
Other features of the upgrade include "Antenna Crossing Event," which enables the reader to determine the order of closely spaced items as they move past the antenna, and "Tag Phase Reporting," which allows users to enter raw tag phase data into problem solving algorithms.
The 3.0 Firmware expands regulatory support of the IN510 into Japan, Barbados, Colombia, Peru and Korea, and is available free to all IN510 owners currently covered under Sirit's warranty program.