SMARTRAC producing ultra-thin NFC tags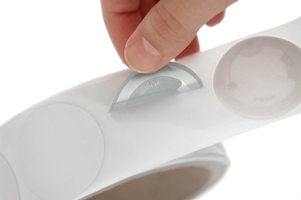 SMARTRAC announced production of NFC tags at 50 micrometers, reportedly making it one of the thinnest RFID transponder to date.
Typically rendered at 120 µm, SMARTRAC has drastically cut the standard RFID transponder thickness, and is able to make Infineon my-d NFC chip wafers down to 50 micrometers for flip chip assembly.
Once assembled, the ultrathin chips are then connected to SMARTRAC's BullsEye antenna where the company employs its patented Palladium bumping process— pure metal-on-metal antenna-chip-interconnection— to ensure the chips' durability.
The new 50 micrometers transponders housed in the SMARTRAC BullsEye NFC tags, are suited for printing applications because the ultrathin inlays can be integrated into business cards, magazines and other similar products.
Samples of SMARTRAC's new NFC tags will be on display at the company's Cartes 2012 conference booth in Paris on November 6-8. Field deployment of the new NFC tags is scheduled to start sometime during the first quarter of 2013.