Sony reveals NFC-enabled portable speaker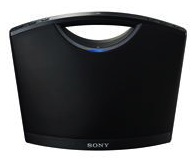 Sony unveiled an NFC-enabled portable speaker that can pair with your mobile phone to play songs directly from your mobile music library.
NFC phone users can simply tap their handsets against the SRS-BTM8 speaker to establish a Bluetooth connection over which music can be streamed. Another tap closes the connection and stops the music instantly. According to Sony, the speaker can stream music from your mobile device from "anywhere in the house."
The "One-touch" function works right out of the box with Sony's NFC-enabled smart phones, like the Xperia T and Xperia V. However, owners of other models need to download a free "NFC Easy Connect" app from Sony to use the feature.
Those with non-NFC handsets can still pair their phones with the SRS-BTM8, albeit not as easily.
"With our range of wireless speakers, we want to make listening to music as easy and convenient as possible," said Lynda Lamraoui, Marketing Manager of Sony Europe. "With NFC technology, it really couldn't be simpler. The SRS-BTM8 is the type of product you don't even have to think about using – and that's when technology is at its best."
The SRS-BTM8 is expected to launch in late September.
Check out more about the device here.