Sony reveals new Xperia phones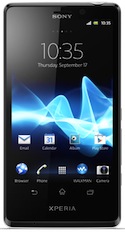 Sony has unveiled two new NFC-enabled Xperia smart phones – the Xperia T (pictured) and Xperia V.
The Xperia T, Sony's new flagship mobile device, runs on Android 4.0.4 Ice Cream Sandwich and featurres a 4.6″ HD display, 13MP camera, full 1080p HD video, 1.5GHz dual core processor and embedded NFC.
Sony has not made specs available for the Xperia V, but did note in a release that the V will share many of the T's functions, including the HD features and embedded NFC.
According to Sony, both handsets will be able to use Sony's "One-touch" function, which enables users to connect to a range of NFC-enabled Sony devices, like their new NFC speaker, by simply touching one to another to establish a wireless connection.
The Xperia T will launch globally over the next few weeks, while the Xperia V will debut in Q4 2012.