Southwest Airline pilots undergo biometric screening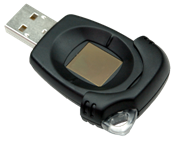 More than 200 Southwest Airlines pilots will participate in a biometric screening program at Baltimore Washington International Airport over the next two months. The SecureScreen program is using biometric and identification technology from Chicago-based Priva Technologies.
Southwest pilots participating in SecureScreen undergo enrollment using Priva's Cleared Security Platform, which stores their fingerprints, photograph, and other protected security information on a ClearedKey. The ClearedKey data can only be accessed by TSA at a security checkpoint, where the reader verifies the pilot's fingerprint and also provides an additional layer of security by showing the TSA agent the pilot's photograph. After positive identification, TSA clears the pilot to proceed into the secure area to report for flight duty.
SecureScreen was jointly developed by the Southwest Airlines Pilots Association (SWAPA), Southwest Airlines (SWA), the Coalition of Airline Pilots Associations (CAPA), Maryland Aviation Authority (BWI), officials from TSA, and Priva Technologies. ClearedKey utilizes commercially available, biometrically enabled microchips with the government's FIPS 140-2 Level 3 certification.
SecureScreen addresses the congressional mandates in H.R. 1 (Public Law 110-053), implementing the recommendations of the 9/11 Commission, which requires TSA to enhance security by properly identifying authorized airline flight deck and cabin crew members at screening checkpoints, granting them expedited access through screening checkpoints and to integrate biometric identifiers into airport security access control systems.