Sprint to launch $100 LG NFC phone in April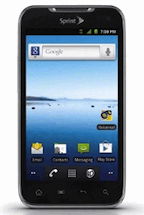 Sprint has announced a late April U.S. launch date and a slim $100 price tag for its new NFC-enabled LG Viper 4G LTE smart phone.
Available for pre-order now, the Android 2.3 powered Viper features a embedded NFC connectivity, 1.2 GHz dual-core processor, 4-inch touch screen, 1 GB of RAM, mobile hotspot capabilities and a 4GB card microSD slot that supports up to 32GB.
Thanks to its embedded NFC, the Viper will join the short list of phones from Sprint that are able to use mobile payments service Google Wallet.
Sprint, a launch partner of Google Wallet, announced last month that it would release no less than 10 Google Wallet-compatible phones in 2012, starting with the LG Viper.
Check out the Viper's full specs here.