Sprint to launch Galaxy SIII with Google Wallet on June 21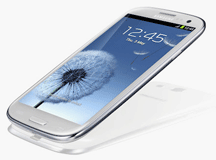 Sprint has set a June 21 launch date for the NFC-enabled Samsung Galaxy S III, making it the first carrier in the U.S. to offer Google's new flagship mobile device.
The Android 4.0-powered phone will run on Sprint's 4G LTE network and come preloaded with Google Wallet, enabling users to make NFC-enabled contactless mobile purchases at more than 100,000 participating retailers nationwide.
The phone will be offered in a 16GB version for $199.99 and Web-exclusive 32GB version for $249.99.
Customers can pre-order the device beginning Tuesday, June 5 via Sprint's website.
"Sprint and Samsung take another leap forward together in bringing our customers the best in mobile technology with Galaxy S III on the Sprint 4G LTE network," said Fared Adib, VP of Product Development at Sprint. "Sprint is the only U.S. carrier to offer this device with the simplicity of unlimited data plans."